Montessori 4 in 1 Math Puzzle
Sale price Price $34.99 Regular price Unit price / per
Tax included. Free shipping from 🇺🇸 warehouse.
Get your child a head start in life and try this Montessori 4 in 1 Math Puzzle. Appropriate for 3-5-year-olds.
The Montessori puzzles nurture your child's visual skills, motor development, concentration, physical coordination, body awareness, and strength right from birth.
Why buy "Montessori"?
✅  Give your toddler a head start
✅  Equip your child with learning skills
✅  Reach their developmental milestones sooner
✅  Develop patience, attention, critical thinking, coordination
✅  
Appropriate for 3 - 5-year-olds
✅  Made from REAL, solid wood
✅  Vibrant colors
✅  Easy to use & perfect size for little hands
✅  Puzzles: fishing 🎣, counting 💯, sorting 🔴🟦, and stacking 🧿

🚢F ree shipping today!
🤗 50% OFF
🛡️ 30-day money-back guarantee

Safety Certified for 1-4 Years
Toys and materials are designed and manufactured to meet safety standards for babies 1-4 years old.
Montessori Materials
Precise materials are at the heart of Montessori education. Products are designed so that children can focus, gain mastery, and flourish.
Sustainably Sourced
Manufactured at an award-winning factory that uses only sustainably-forested wood, non-toxic paint, and 100% recyclable packaging.
Customer Reviews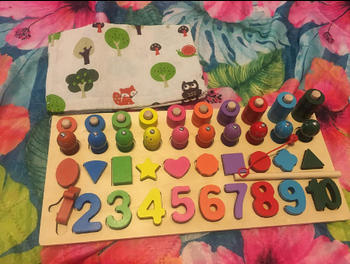 10/20/2020
Multiple pieces so can get messy and should watch child if small so do not put pieces in mouth
Very cool learning item. Able to learn motor skills, colors and numbers all while keeping it fun. Good for toddlers and also I use with my daughter who is special needs and she loves it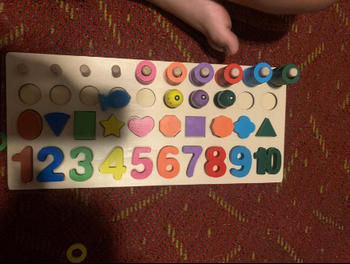 08/03/2020
Wonderful
I loved it more than my 2 yr It is really entertaining they can learn many thing on the same board . I love everything about it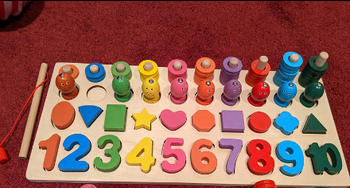 07/20/2020
Cute gift
This was a perfect gift! I ended up liking it so much that I bought one for my kids too!
02/22/2021
Great puzzle
This is very high quality with many great components. The design and function works just as expected. This toy has been a fun way to play with my toddler while talking numbers and colors.
02/16/2021
This was a hit! Fun learning!
This is a great learning toy!! Nice quality and variety of educational possibilities. Numbers,shapes, sorting, stacking, fishing, colors, matching, counting... The only downside is some colors are hard to describe- coral and terra-cotta. I think they are supposed to be orange and brown. I would purchase again- even with the color choices.