Best Seller: Preschool Jigsaw Puzzles 6 PACK
Sale price Price $39.99 Regular price $60.00 Unit price / per
🤭The toddler stage is the best time to start introducing puzzles to your little one. It's a great activity for your little one to learn how to work independently.
These Preschool Jigsaw Puzzles 6 PACK will always be a fun, educational toy that will challenge the young minds of our kids while teaching them and preparing them for important life skills they can apply when they reach school age.

We design every product to the highest quality standards, and to nurture minds and hearts. In a world taken over by screens, puzzles will always be the go-to in our home!
Why buy "Montessori"?
✅Give your toddler a head start
✅Equip your child with learning skills
✅Reach their developmental milestones sooner
✅Develop patience, attention, critical thinking, coordination
✅Fun Learning & Great visual stimulation
✅Safe & Durable Toys for Toddlers
✅
Appropriate for 3+-year-olds
✅Made from REAL, solid wood, 100% Non-toxic and, BPA-free materials
✅Vibrant colors
✅Easy to use & perfect size for little hands


Why kids love it?
✅Great for toddlers- to develop hand-eye coordination and places, insects, farm and sea animals recognition.


✅Having a fun interactive puzzle is one thing, but having one that resembles art is even better.

✅Fun Set Patterns- Exercise a kid's brain and build places, things, animal recognition.

✅Perfect size- These wooden jigsaw puzzles are high quality. They are great for tiny hands to easily grip and have smooth, safe edges

F A Q s
What are the benefits of puzzles?
Toddlers receive many great benefits by completing puzzles. Children will usually start out with something simple that has knobs on it. The outlines will be simple and shaped to fit into the corresponding cutout. When your toddler is completing a puzzle on his/her own they are developing:
Physical skills

– this is done by holding puzzle pieces and turning them into the slot until they fit.

Cognitive Skills

– this skill is developed as they solve the puzzle.

Emotional Skills

– as your toddler learns to complete a puzzle on their own, they learn patience and are rewarded when they complete it.
What kind of puzzle is right for my toddler?
The puzzles for your toddler should be easy to grip. Most puzzles have pegs that make each piece easy to pick up. Big pieces are also ideal for imaginative play. If your toddler is advanced you can always move them up a step.
Are puzzles good for toddlers?
Puzzles are a great way to pass the time and to promote independent learning. It is a healthy way to entertain your children and helps develop fine motor skills, hand-eye coordination, and shape recognition.

Package Includes:
1 x Animal Puzzle

1 x Dinosaur Puzzle

1 x Farm Puzzle

1 x Planet Puzzle

1 x Marine Puzzle

1 x Insect Puzzle
🚢Free shipping today!
🤗50% OFF
🦺30-day money-back guarantee

Safety Certified for 1-4 Years
Toys and materials are designed and manufactured to meet safety standards for babies 1-4 years old.
Montessori Materials
Precise materials are at the heart of Montessori education. Products are designed so that children can focus, gain mastery, and flourish.
Sustainably Sourced
Manufactured at an award-winning factory that uses only sustainably forested wood, non-toxic paint, and 100% recyclable packaging.
Customer Reviews
Write a Review
Ask a Question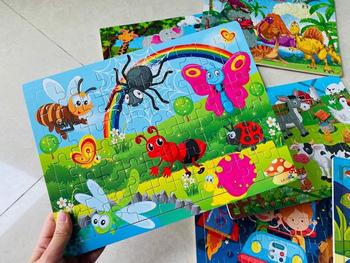 05/29/2021
Wonderful wooden children's puzzles. Great Price and Quality!
This is a awesome set of puzzles. They are themed, colorful and fun with the many different pictures. A great teaching tool for eye p, hand coordination and problem solving. A great activity for cold winter days. Nit inky are these awesome for homes with small children but would be ideal for a daycare center, preschool or elementary school. The box is hard cardboard and nicely decorated and ready to wrap. What a awesome Birthday gift this would make for your grandchild. Priced nicely too! Very hooky with this purchase and would recommend it to others.
05/28/2021
Connects easy! Good deal!
These were such an awesome deal for Birthday! They come individually sealed, so I will be adding them as extra gifts for the kids. My daughter wanted to open one to play with. They are quite sturdy and connects nicely! Lots of action in the pictures, so it made it a little easier to find the connecting pieces (vs trying to connect pieces that are all the same color). Excellent find!!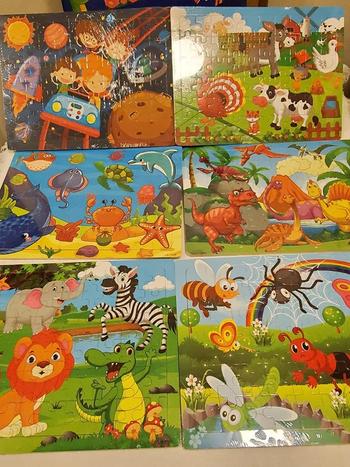 05/26/2021
6 Puzzles 1 Box Hours Of Fun
I was not paying attention when I got this because I thought I had bought 1 wooden puzzle (at a high price) but was pleasantly surprised when I got this PUZZLES for that price and all were top quality and with 60 pieces it is the perfect difficulty for preschool. All the pieces were well made, no frayed edges and no layers rolling up so I am giving this 5 Stars, not sure I have seen puzzles this good in years
05/25/2021
Great non electronic entertainment for kids
I bought these to help entertain my 5 year old niece during quarantine. She has twin 2 year old brothers that she likes to escape from and have some quiet time. This set of puzzles are colorful and there are a good assortment of different scenes, perfect for her. She likes girly girl stuff like fairies and princesses but she also likes puzzle. The puzzles weren't too hard for a 5 year old or too babyish easy either. She loved that they each came with a poster of the picture to help her out. I liked that they're made of wood rather than cardboard like regular puzzles. More durable it seems. The only slight drawback was that we needed to trim some splinters off a few pieces that happened when we separated the individual pieces so no little fingers got poked. All in all a great gift that provided much needed entertainment away from the TV during these difficult times.
05/23/2021
Great set of kids puzzles!
My son loves puzzle and these keep him engaged. These are a great set of 6 puzzles, not so easy and not so tough for my 3 year old.The quality is great too, not very thin and the price is awesome. I mean there are 6 puzzles and all of them are very exciting. So, overall my boy liked these puzzles a lot!