Montessori Monkey Balance Math Game
Sale price Price $29.55 Regular price $49.99 Unit price / per
The perfect way to encourage and reinforce multi-dimensional learning at home, school, nursery, and during tutoring sessions! 🔢  

(and create hours of FUN and EVERLASTING memories together 🤩)

   "My granddaughter keeps choosing it as her toy to play with when she comes to visits. At 3-years of age, she has already mastered counting objects to 10."
Why is this super fun toy a must-have?
✿ Monkey Balance is the perfect way to start early math learning. It helps foster and develop critical skills such as sorting, problem-solving, color and number recognition, counting, addition and subtraction, and fine motor skills.
★ A kid could sit and play with it independently, coming up with new number combinations, which stimulates his creative thinking.
✔️ Interactive Learning: An ideal teaching tool for parents and teachers who is looking to encourage and reinforce divergent thinking at home, school, and during tutoring sessions
☀︎ Excellent Math Game: When kids are playing with the cute monkeys, this math counting toy could help introduce the idea of counting, number recognition, learning basic addition and subtraction!


📝 Product details:
-Quantity: 1x Montessori Monkey Balance Math Game, 65 Pieces
-Non-Toxic Materials
-Age appropriateness: 3+ years old

📦 Package includes:
- 30x Two-Sided Cards
- 19x Monkeys
- 10x Weighted Numbers 1-10
- 1x Monkey Balance Scale
- 2x Weighing Pan
- 1x Stand
- 1x Instruction
Customer Reviews
Write a Review
Ask a Question
07/31/2022
Educational and fun
I gifted it to a 5 year old boy and he loved it. They are really helpful and it makes counting fun. He really enjoyed playing with the monkeys I would have loved for the numbers to go higher up to 20 or have extra monkeys. Anyways I still loved the product and the price was good too.
05/31/2022
Monkey measurements
My daughter played with it for a bit. She can assemble it herself but it does not seem durable it will break. Each number matches the weight for however many monkeys should go on the scale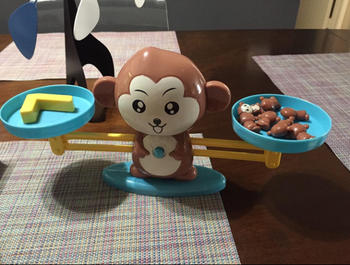 01/25/2022
A must have!
This is a much better alternative to flash cards! Very colorful and easy for little ones to comprehend. My 3 yr old loves it. It's durable and easy to store when not in use.
01/19/2022
Cards flimsy
Cards are flimsy-should be laminated. Nice to have a pouch or bag to keep the small pieces. Besides that, great learning tool.
12/27/2021
Good for kids 3 to 4yo
Good for kids 3 to 4yo