Montessori Fort Building Kit
Sale price Price $49.99 Regular price $98.90 Unit price / per
The perfect way to encourage creativity and imagination
! 

🚀


(and create hours of FUN and EVERLASTING memories together 🤩)



   " My grandkids love it! They have so much fun creating different forts and rockets."
Why is this super fun toy a must-have?
♥ Promotes Teambuilding Skills:  working with other kids helps promote teambuilding skills and how to work with others. It can even be something the whole family does together and can be done inside or outside, making this a great group activity. 
★Easy To Build: the plastic rods snap easily and securely into the ball connectors, allowing for countless configurations of forts that are fun and easy to build. 
☀︎ Sparks Creative And Imaginative Play: toy spark creative and imaginative play while still being fun and entertaining.
✿ Perfect Gift: comes with a storage bag, portable for indoor and outdoor activities.
📝 Product details:
-Quantity: 1 Montessori Fort Building Kit, 85 Pieces
-Material: Plastic
-Age appropriateness: 3+ years old
📦 Package includes:
-16 X Blue Balls Connections (diameter: 1.97 in)
-15 X Green Balls Connections (diameter: 1.97 in)
-54 X Reinforced Sticks (length: 14.96 in)
-1 X Instructions
-1 X Portable Bag 
-1 X Colour Gift Box
Customer Reviews
Write a Review
Ask a Question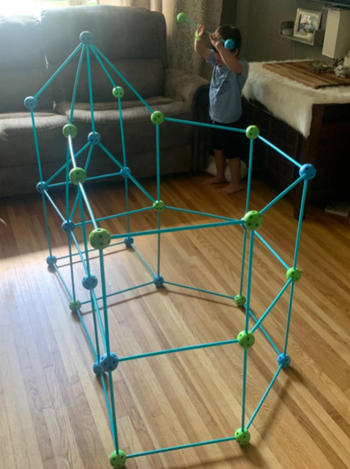 12/10/2021
Happy new toy for kids
Kids were very happy to get this on their hands. It kept them busy for several hours. Happy to avoid the screen time and get them involved with something "constructive"
12/09/2021
STEM Fun!
My daughter loves building things. She loves LEGOS, Magnet Tiles, this is the latest STEM toys she loves. She is building all kinds of structures to play in with her dolls. The construction is easy and she can play this for hours. Definitely worth the buy.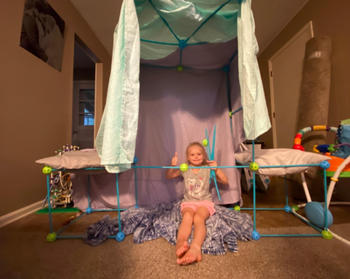 12/08/2021
One of my kids' favorite Christmas presents
My 7 and 8 year old daughters LOVE this gift I got them for Christmas. They were constantly building forts in our living room with the couch pillows and asking us for help. Everything would collapse and they would cry. With this kit my 8 year old builds many different types of forts using the included guide ALL BY HERSELF. I just help put the sheets on the top. I used 2 lightweight sheets and nothing collapsed. I told them both to be careful crawling through it and that if anything came apart (only happened a couple of times so far and only one or two sticks detached) to not freak out and we would help them fix it. So far so good. I might even buy a second kit. It also helps to brace the finished fort against something like a couch or ottoman to give more support.
11/28/2021
Great rainy day toy
Perfect to keep my toddler occupied while stuck indoors. Helps with critical thinking and problem solving, sturdy and safe.
11/27/2021
Great gift for a 3 year old!
My 3 year old daughter loves this kit! We are constantly building space ships in the living room. With a light weight sheet and some clothes pins, we can cover the whole thing too!