Montessori Busy Board
Sale price Price $34.98 Regular price $87.45 Unit price / per
Do you want to help your child's brain development and unlock their full potential?
Get your toddler a head start in life and try this Montessori busy board. Appropriate for 1-4-year-olds.

This Busy board will nurture your child's visual skills, motor development, concentration, physical coordination, body awareness, and strength right from birth.


Challenge your kid's skills and unlock their full potential!
Shoelaces: learning how to lace a shoe has never been easier & more fun. Great exercise for hand coordination!
Zipper: this will be your kid's favorite. They can play with the zipper for hours.

Snap pocket: The most challenging task for little hands, but the most rewarding one!
Buckles: They'll spend hours playing with 8 types of buckles. Great for kids that have a short attention span!

Excellent travel toy

Great to take on trains, planes, or for a car ride. Designed in the perfect size and are flexible to fit in most bags. Give this to your child instead of a smartphone 📵.
Why go "Montessori"?

Give your toddler a

 

head start
Equip your child with

 

learning skills
Reach their

 

developmental milestones

 

sooner
Develop

 

patience, attention, critical thinking, coordination
Product Features:
1–4-year-olds
High-quality materials

Vibrant colors

Perfect size for little hands
Make this investment in your child's future!
50% OFF

30-day money-back guarantee
Customer Reviews
Write a Review
Ask a Question
11/19/2021
Disappointed
The order came fast -- appreciate that. But the items I ordered were in the suggested items for 1-2 yr olds and when they arrived they had a hazzard warning that said they should not be used by children under 3. That information should be included before purchase.
Jeannie

United States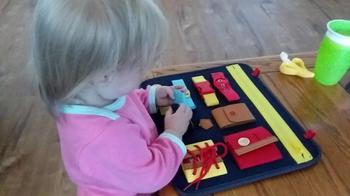 04/26/2021
Nice Learning tool
I love the idea of this!! My daughter maybe a tad young still but I wanted to introduce her early to zippers and buckles. She is obsessed with anything with laces so of course she loves to un tie the shoe lace part. My daughter will use it for a long time and it is perfect for little ones to learn the basics of tying their shoes, buttons, zippers snaps, and buckles.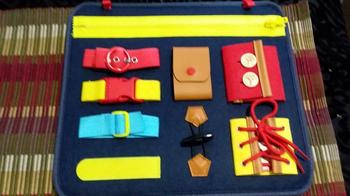 04/24/2021
Worth the money
This kept my 1.5 year old intermittently entertained on the airplane. It is easy to pack (especially when compared to some similar toys that are oddly shaped stuffed animals). Zipper and Velcro were the most fun for him.
04/21/2021
It helps!
Bought this for my daughter to help her to learn how to dress herself. And it's sooo useful! It has all types of fasteners. It's bright and my daughter was happy to learn and to play. I recommend it to everyone, it helps!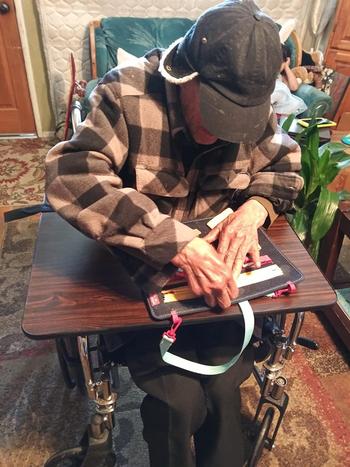 04/20/2021
Great quality!
I bought this for my 91 year old grandfather who has dementia and he LOVES it. It keeps him busy for hours. I know its intended for toddlers but he enjoys it and surprisingly he has not ripped anything. It definitely is durable and just great quality overall. Will buy it again if he happens to finally rip something or if he loses it since it keeps him happy and busy.