Creative LCD Tablet
Sale price Price $29.95 Regular price $59.90 Unit price / per
The perfect way to introduce 
writing and drawing 
to your little ones! ✍🏿
 (and create hours of FUN and EVERLASTING memories together 🤩)
 

 

 "My 2 and 5 years old love this product! They are fighting for it. Perfect for practicing writing and drawing!"

Why is this super fun toy a must-have?
🎨A creative LCD Tablet is perfect for kids who like using their imagination to write and create with intention and purpose.

🎁Excellent gift for holidays, birthdays, back to school, Easter, or any occasion!

👀Tablet adopts the newest LCD pressure-sensitive technology and has a 10-inch LCD color screen.The LCD screen is safe and comfortable when children use it for a long time.

🖌️Environment-friendly. The battery lasts for about 6 months (battery is included) and can be replaced. The stylus can be hung on the writing board through the lanyard.

✍🏿Easy to Use. Writing and drawing on an LCD tablet is like writing and drawing on actual paper. It creates lines of different thicknesses based on how hard you press. You can erase all content and pattern by pressing erase button.

💙💗Available in blue or pink color.

📝  Product details:
-Quantity: 1 Creative LCD Tablet (blue or pink)
-Material: Plastic, Paper
-Age appropriateness: 3+ years old
📦 Package includes:
-1 x Creative LCD Tablet.

Customer Reviews
Write a Review
Ask a Question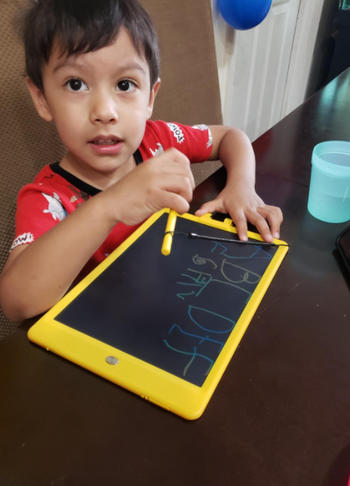 02/14/2022
Surpassed my expectations
My 2 yr old can be rough with his toys. This looked like something that would be fun for him to play. I liked the idea that he could draw without worrying about him coloring the walls or furniture. When I opened it up with him for Christmas, my first thought was "this will only last a week at most". The light-weightedness of this pad felt cheap. It has been almost 2 months and it still works great. It has been knocked onto the floor, thrown, and stepped on countless times and is still functioning normal with no visible signs of damage or scratches. If and when this item does kick the bucket, and if the price is still reasonable, I will purchase another one!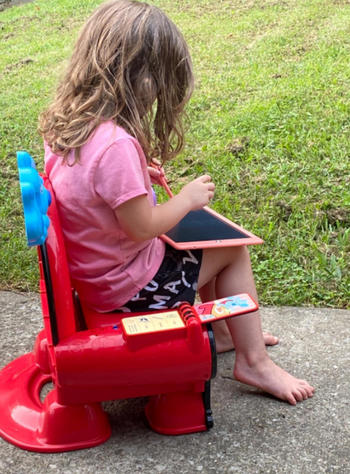 01/23/2022
Perfect for kids
My toddler niece loves to color and draw, and I love to not have marker and crayon all over my furniture and walls. I got her this as a Christmas present and she spent 5 hours playing with it. When she figured out how to use the erase button she was so excited she had to show it to everyone in the house. It's easy to use, mess free and endlessly stimulating. My one bit of criticism is that pulling out the battery to replace it is very difficult. I appreciate that no child will accidently do it, but as an adult with a screwdriver and other tools at my disposal it was next to impossible. Despite that I still plan on getting a second one so she can leave it at my place for when she comes over.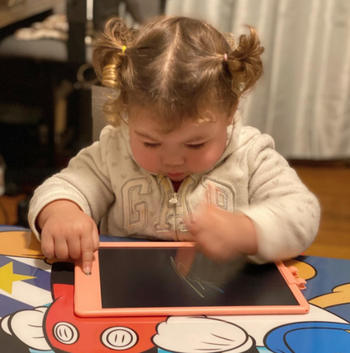 01/16/2022
Our toddler loves it.
We like that it is not electronic. Our toddler (age 2) loves to draw and we like to encourage that. We even enjoyed playing with it. The only thing that I don't care for, is I fear it being left on the floor and being stepped on however it is still going strong so far. The stencil pen attaches on top to hold it in place, it did have one side break off but it is still holding the pen so far. I like it. It is colorful and encourages creativity. Everyone who has tried it from age 1- 73 in our family likes playing with it. When someone else is playing with it our toddler loves to come up and hit the button to clear the screen and laugh. My only regret is that I didn't buy one for the other little ones in our family. Good value for the money. When I first opened it I thought it was cheap looking but I soon changed my mind when I saw her interact with it. It is light weight and we take it with us in the car, to Bible study, doctor's appointments, ball games.
01/15/2022
I love it! 2 year old not so much tho!
So this was another one of my 2 year olds bday purchase that I love more than him. He seems a little unamused by it. He's in that stage where he just wants so much more, but I am sure he'll circle back at some point. I'll admit, I haven't taken the time to understand how it works (lol) but an eraser pen would b great to clean up sharp edges or to help create effects. CS seems pretty cool. An extra battery was included and apparently they give a couple years of free battery replacement which is pretty awesome. Only real con (worth taking off a star but I personally don't care as much) is that kid ripped pen off string immediately so unless I clip everything back immediately, pen will get lost :-/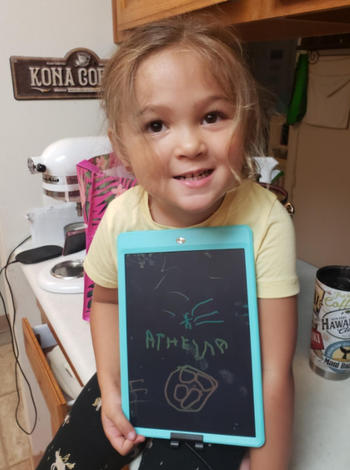 01/14/2022
Was a Hit for a 3 Year-Old!
Got this for my friend's daughter for Christmas and she absolutely loved it! It's really easy to use and I love the locking feature so you don't have to worry about them working really hard on a picture and then accidentally erasing it. It's also easy enough for my friend's three year-old to lock and unlock on her own. She was very entertained just drawing squiggles and then pressing the button to make it all disappear, exclaiming, "I did it!" It's also pretty durable. My friend's daughter slung this thing around and dragged it on the floor and it stood up to the abuse.