Best Seller: Montessori Wooden ABC Building Blocks
Sale price Price $34.98 Regular price $87.45 Unit price / per
Tax included. 30 day money back guarantee.
🤭Did you know 85% of the child's brain is formed by the age of 3?


Get your toddler a head start in life and try this Montessori Wooden ABC Building Blocks. Appropriate for 1-4-year-olds.


The Montessori blocks nurture your child's visual skills, motor development, concentration, physical coordination, body awareness, and strength right from birth.


 
Why buy "Montessori"?
✅
Give your toddler a
head start
✅
Equip your child with
learning skills
✅
Reach their
developmental milestones
sooner
✅
Develop
patience, attention, critical thinking, coordination


✅
Appropriate for 1 - 4-year-olds
✅Made from REAL, solid wood
✅Vibrant colors
✅Easy to use & perfect size for little hands


🤗
50% OFF
🦺
30-day
money-back
guarantee
Safety Certified for 1-4 Years
Toys and materials are designed and manufactured to meet safety standards for babies 1-4 years old.
Montessori Materials
Precise materials are at the heart of Montessori education. Products are designed so that children can focus, gain mastery, and flourish.
Sustainably Sourced
Manufactured at an award-winning factory that uses only sustainably-forested wood, non-toxic paint, and 100% recyclable packaging.
Customer Reviews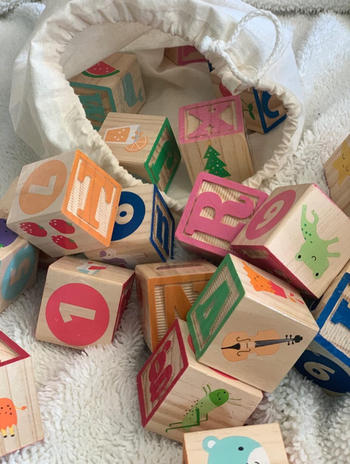 09/30/2021
There is no certain time to learn
I volunteer in 3 kindergarten classes. I purchased the blocks to help two of the sweetest boys that have trouble connecting the alphabet and numbers into actual understanding. The blocks are helping them perceive and recognize what the numbers and alphabet are. I'm so excited for them, plus they get to build tallll towers as they learn! Learning is fun when fun is learning. Thank you. Oh! Don't give up on a child just because they have passed the "age" the toy was originally made for. We all learn at different times of growth
09/23/2021
Great quality product
Pros: +Large +quality print/paint +good craftsmanship(smooth edges) +after several months of use with a toddler, blocks are holding up well. no signs of chipping/paint peeling. Cons: - none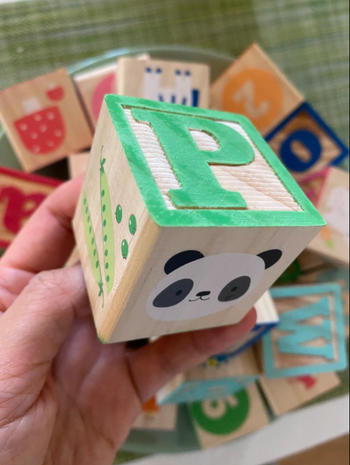 09/10/2021
Good value and quality
I have been searching for a set of wooden blocks for my 13 month old toddler. This is the perfect size for my little one. A solid 1.5'' of wood each piece. Large enough to not worry about choking. The quality is excellent and it's great value for the price. My 13 month old can grap one easily, and while she can't stack them yet, it'll be a perfect tool to teach her very soon, and she will likely be able to use it for at least a few more years. I am very pleased with these so far! Highly recommend this abc wooden block set!
11/17/2021
Adorable
I did not have any problem with them , they are actually pretty adorable.
10/14/2021
Perfect
My daughter loves them