Best Seller: Montessori Puzzles 6 PACK
Sale price Price $39.97 Regular price $99.93 Unit price / per
🤭Did you know 85% of the child's brain is formed by the age of 3?
Get your toddler a head start in life and try this Montessori puzzles bundle. Appropriate for 1-4-year-olds.
The Montessori puzzles nurture your child's visual skills, motor development, concentration, physical coordination, body awareness, and strength right from birth.
 Why buy "Montessori"?
✅Give your toddler a head start
✅Equip your child with learning skills
✅Reach their developmental milestones sooner
✅Develop patience, attention, critical thinking, coordination
✅
Appropriate for 1 - 4-year-olds
✅Made from REAL, solid wood
✅Vibrant colors
✅Easy to use & perfect size for little hands
✅Shapes: bear 🐻, crab 🦀 , owl 🦉 , bee 🐝 , butterfly 🦋, ladybug 🐞 , and others*
*shapes may vary between orders

🤗50% OFF
🦺30-day money-back guarantee

Safety Certified for 1-4 Years
Toys and materials are designed and manufactured to meet safety standards for babies 1-4 years old.
Montessori Materials
Precise materials are at the heart of Montessori education. Products are designed so that children can focus, gain mastery, and flourish.
Sustainably Sourced
Manufactured at an award-winning factory that uses only sustainably-forested wood, non-toxic paint, and 100% recyclable packaging.
Customer Reviews
Write a Review
Ask a Question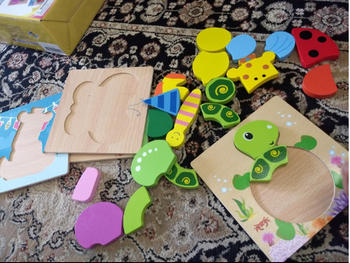 10/24/2019
Can't get enough
My only regret: I wish there were more shapes, because our 2 year old can't get enough of them :D
10/20/2021
OUR GRANDSON LOVES THESE PUZZLES!
I'm always worried our grandson (2yo) will like the toys we buy for him. And then there are also the parents, who don't want me to spoil him. But they love these puzzles and this makes me so happy!
Alex

Slovenia
10/21/2021
Project Montessori
Thank you for the amazing feedback, we really appreciate it!
10/19/2021
Please stop getting toys made in China
I was sad to realize the 2 items I purchased were both made in China and were poor quality.
Kathleen M.

United States
06/13/2021
Cute puzzles
While I liked the set of puzzles..and my grandson did too, I was going to buy some other sets but see they have mixed some of the ones I got in my set in with other sets. That is the only disappointment I have. I don't want duplicates....
Susan W.

United States
04/17/2021
Great experience
I received my wonderful puzzles, but I had a question that I emailed. The very next day I had a complimentary gift arrive at my house! Blown away by that kind of customer service! Great company!
Katherine E.

United States