Best Seller: Animal Jigsaw Puzzles (6 PACK)
Sale price Price $34.97 Regular price $87.43 Unit price / per
🤭Did you know 85% of the child's brain is formed by the age of 3?
Get your toddler a head start in life and try this Montessori puzzles bundle. Appropriate for 2-5-year-olds.
The Montessori puzzles nurture your child's visual skills, motor development, concentration, physical coordination, body awareness, and strength right from birth.
 Why buy "Montessori"?

✅Give your toddler a head start
✅Equip your child with learning skills
✅Reach their developmental milestones sooner
✅Develop patience, attention, critical thinking, coordination
✅
Appropriate for 2 - 5-year-olds
✅Made from REAL, solid wood
✅Vibrant colors
✅Easy to use & perfect size for little hands
✅Shapes: crocodile 🐊, caterpillar 🐛, tortoise 🐢, monkey 🐵, T-Rex🦖, and giraffe 🦒



🚢Free shipping today!
🤗50% OFF
🦺30-day money-back guarantee

Safety Certified for 1-4 Years
Toys and materials are designed and manufactured to meet safety standards for babies 1-4 years old.
Montessori Materials
Precise materials are at the heart of Montessori education. Products are designed so that children can focus, gain mastery, and flourish.
Sustainably Sourced
Manufactured at an award-winning factory that uses only sustainably-forested wood, non-toxic paint, and 100% recyclable packaging.
Customer Reviews
Write a Review
Ask a Question
03/24/2021
Safe learning fun
Learning toys are the best, because at 3, kids are basically sponges, soaking up everything. Learning about patterns and spacial relationships is a nice and fancy way of saying "playing with jigsaw puzzles". These are exceptional. My grand daughter is 3, and they are currently her absolute favorite. That is great, since it is going to help with her development. And I love playing with them with her too. The pieces are brightly colored, and very sturdy. I don't have any fear of her playing with them by herself as there is nothing for her to choke on or cut herself with. It's really nice knowing she has safe toys to learn with
03/22/2021
Pieces are easy to hold
These are wonderful! The colors are vibrant and the pieces are easy to hold. The puzzles are smaller than normal so they are quick to solve and she loses interest a lot less often than others we have. Love the design and craftsmanship!
03/18/2021
Great puzzle for kids
I love these puzzles, they are lightweight which is great for the little hands. The pieces are numbered which helps my little ones with their number and orders. Has held up nicely so far. Seems durable and will last a while. Would recommend.
03/11/2021
Great for Montessori kids of many ages
Both my children, ages 2 and 5, attend a Montessori Program, so I am always looking for Montessori activities that work for both of them at home. This one is perfect. Keeps them both engaged. Love it that they can work on these puzzles together. A fun problem solving, cooperative activity.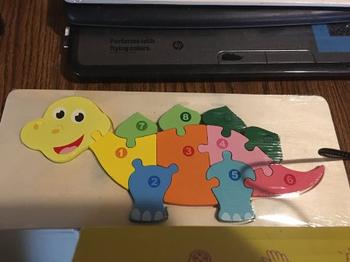 03/04/2021
For home, school, or anywhere
All of these puzzles are Individually wrapped and well crafted. Each colorful piece is numbered to help learn numbers, colors, and patterns. With each one being wrapped individually—they would make great gifts for a classroom, parents, and/or holidays. Each one reminds me of the puzzles from school or even the doctors office. I would recommend these for anyone looking for a gift that will last many years to come!