Best Seller: 3D Dinosaur Puzzles 6 PACK
Sale price Price $34.97 Regular price $99.93 Unit price / per
Did you know 85% of the child's brain is formed by the age of 3?

Get your toddler a head start in life and try this Montessori puzzles bundle. Appropriate for 1-4-year-olds.
The Montessori puzzles nurture your child's visual skills, motor development, concentration, physical coordination, body awareness, and strength right from birth.
Why buy "Montessori"?
-Give your toddler a head start
-Equip your child with learning skills
-Reach their developmental milestones sooner
-Develop patience, attention, critical thinking, coordination
-6 piece bundle
-Appropriate for 1 - 4-year-olds
-Made from REAL, solid wood
-Vibrant colors
-Easy to use & perfect size for little hands

-50% OFF
-30-day money-back guarantee

Safety Certified for 1-4 Years
Toys and materials are designed and manufactured to meet safety standards for babies 1-4 years old.
Montessori Materials
Precise materials are at the heart of Montessori education. Products are designed so that children can focus, gain mastery, and flourish.
Sustainably Sourced
Manufactured at an award-winning factory that uses only sustainably-forested wood, non-toxic paint, and 100% recyclable packaging.
Customer Reviews
Write a Review
Ask a Question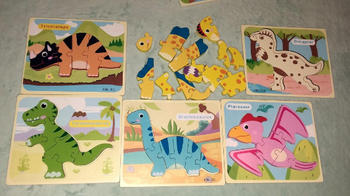 02/24/2021
Fun puzzles
My toddler loves these puzzles, they've gotten bored with the more simple ones and are ready for these, the next step. My toddler loves dinosaurs so these are perfect. They're really cute and they love playing with them. I really like the designs underneath that are not exactly the same as the dino so it is a little more challenging but not too difficult. The only thing I wish is that they would change one of the yellow dinosaurs to a different color since they are both yellow with orange spots they're hard to tell the pieces apart. Overall a good value for a great toy that gets lots of use.
02/16/2021
Toddler Puzzle
The puzzles are very cute, came separately wrapped in plastic so that all the pieces stay together. The wood pieces are well made with nice bright color and easy for little hands to hold. Great for toddlers to develop hand mobile skills and hand-eye coordination. It definitely kept him focused and helped with cognitive skills.
02/15/2021
Puzzles to Last
The Dinosaur puzzles are very cute, large, sturdy pieces for little hands and shaded areas to guide the pieces in the correct position. Each puzzle is individually wrapped and all can be held in the box for easy storing. The thickness of pieces and board should last for a long time. Very pleased with purchase.
02/14/2021
fits my needs
Great little puzzles for keeping a little one busy while making dinner...pieces can be a little hard to connect and disconnect
02/05/2021
Good quality wooden puzzles for younger toddlers
These 6 wooden puzzles are of very good quality and are extremely kid friendly with no sharp edges. The wood used for the dinosaur puzzle pieces is very thick and of good quality. The puzzle pieces smoothly fit with each other and within the cut outs on wooden boards. I like the bright colors and the picture of the dinosaurs within the cut outs for reference purpose. But this also makes it suitable only for the younger toddler age group. My 3 and half year old tossed each of these puzzles after 10 mins and then had no interest to play with them. Although this could vary from kid to kid, but I believe in general, this puzzle pack is too simple for kids aged between 3-5 years.