Best Seller: Bee Wooden Sorting Game
Sale price Price $29.97 Regular price $74.93 Unit price / per
Tax included. 30 day money back guarantee.
 🤭Children can generally sort into colors before they can identify the name of the colors. Sorting objects, matching shapes, colors, and then pictures help build the visual perception and thinking skills. Classifying and sorting activities help children to develop a range of thinking skills and build the foundations for later problem-solving. 
Help your kids develop their color recognition through this Sorting Box playset!
Why buy "Montessori"?
✅Give your toddler a head start.
✅Equip your child with learning skills.
✅Educational toys can help develop problem-solving skills.
✅Develop patience, attention, critical thinking, coordination.
✅By sorting, children understand that things are alike and different as well.
✅Fun Learning & Great visual stimulation
✅Safe & Durable toys for toddlers
✅Appropriate for 3+-year-olds
✅Made from real solid wood 100% Non-toxic and BPA-free materials
✅Easy to use & perfect size for little hands
✅Stimulates children's development

Why kids love it?
✅Sorting colors is a great way to get better coordination and develop thinking skills. 
✅Use toy sorters with holes for different colors, and watch your munchkin experiment.

✅Vibrant colors enhance the sense of sight in small kids.
✅Perfect size- Premium quality and makes these perfect for gifting.
🚢Free shipping today!
🤗50% OFF
🦺30-day money-back guarantee

Safety Certified for 1-4 Years
Toys and materials are designed and manufactured to meet safety standards for babies 1-4 years old.
Montessori Materials
Precise materials are at the heart of Montessori education. Products are designed so that children can focus, gain mastery, and flourish.
Sustainably Sourced
Manufactured at an award-winning factory that uses only sustainably forested wood, non-toxic paint, and 100% recyclable packaging.
Customer Reviews
Write a Review
Ask a Question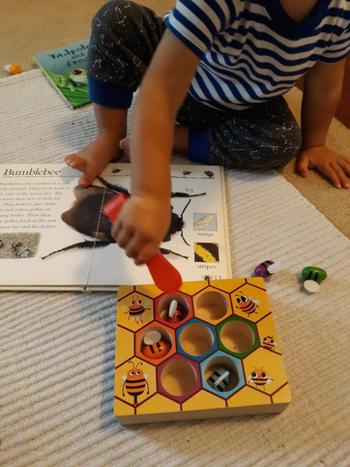 05/17/2021
Cute little toy
I LOVE this toy and so does my 2.5 year old! She loves "tasks" and challenges especially ones that use her hands. She got the hang of it really quickly but it doesn't bore her. She also likes talking about the colors. The best part is finding her bees around the house like when I found a purse full of bees in the couch. Such a cute toy and really well made - I've been telling all my friends about it and it's going to be my new go to gift for 2 year olds. Love it!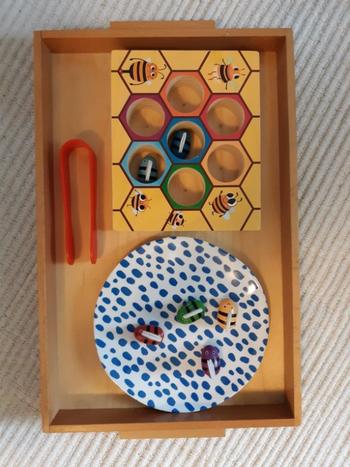 05/16/2021
Exactly what I was looking for!
The beehive is a block of solid wood, well sanded down and perfectly carved. There are no stray wood filaments. Paint is well done. It comes with 7 different colored bees that have felt wings and each match a beehive space. The toy comes with 1 plastic pincer tweezer to grab the bees from the beehive and put them back. It's recommended to grab the bees from the wings, as the body of the bee, also wooden and painted, is too rounded for a proper grasp with the tweezer. The toy box shows the use of the game as a standing up beehive, but my 4 year old was having trouble keeping the bees inside each hive space, they would fall out easily. So resumed playing with the hive laying face up. The skills are the same to use and even allows for flying bees to be dropped into the hive with the tweezer. An entertaining way to develop skills, in a pretty wood piece. The reason it does not have 5 stars is because there is no place to hang or place the tweezer after use. I think a small hook or nook on the side of the block would be a great addition to avoid loosing the tweezer.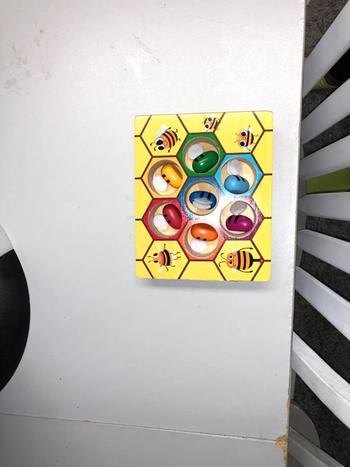 05/13/2021
Great quality and great fun!
Our 20 month old has been obsessed with this toy since he was about 13 months. We only have it in his bedroom so we can monitor him with it but haven't had any issues with him putting them in his mouth. He loves to carry the bees around, line them up and he's already organizing them by colour. They're wood so easy to clean and we've had one go through the wash without incident. I totally recommend this for your babes to help with colour sorting and recognition!
05/12/2021
Fantastic little set to teach big skills, well made, well priced and shipped quickly!
I bought this game for some son when he was about 14 months old. At first all he wanted to do what eats the bees. My wife and I would always be watching him so we made he he spit it out. He was capable of knowing that he could not shallow it but we just made sure. Finally last month he actually started to play with it. He now takes the tong and sticks it in the hole and is able to grab the bee and he hands me/my wife the bee and he keeps doing it until it is done. He is able to put the bees back if we tell him but he is not able to match the color of the bee with the circle (that will take some more time). Overall, we are happy with this toy as he loves playing with it!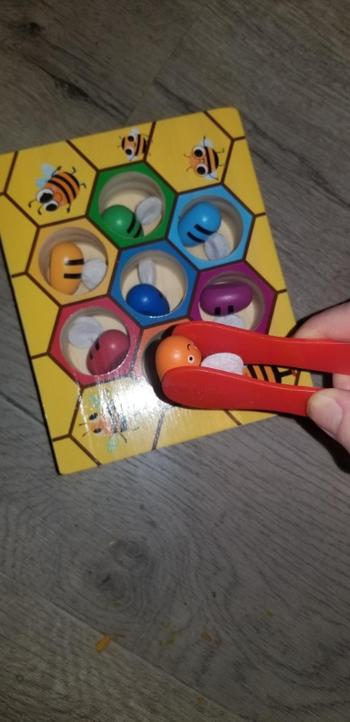 05/10/2021
Very good for toddlers
My four year old daughter loves pulling the bees out. She does't grab them by their wings. She grabs their bodies instead. The bees are colorful and have cute faces. I'm sure she will grab them by their wings as her motor control gets better. The bees do a good job of sitting up when you put them back. Great toy for my daughter and I'm sure I'll find random bees around the house. Just need to try to make sure none of them get lost. Planning on having my 2 year sons play with the too more too. Great gift for the kids.