Animals & Dinosaur Puzzles 2x 6 PACK ($90 savings!)
Sale price Price $69.99 Regular price $160.00 Unit price / per
Tax included. Free shipping from 🇺🇸 warehouse.
EXCLUSIVE CLEARING SALE: SAVE $90
We're clearing our warehouse after the Holidays and Valentine's! Just cover the US factory production costs!
--------------------------------
🤭Did you know 85% of the child's brain is formed by the age of 3?
Get your toddler a head start in life and try this Montessori puzzles bundle. Appropriate for 1-4-year-olds.
The Montessori puzzles nurture your child's visual skills, motor development, concentration, physical coordination, body awareness, and strength right from birth.
 Why buy "Montessori"?
✅  Give your toddler a head start
✅  Equip your child with learning skills
✅  Reach their developmental milestones sooner
✅  Develop patience, attention, critical thinking, coordination
✅  
Appropriate for 1 - 4-year-olds
✅  Made from REAL, solid wood
✅  Vibrant colors
✅  Easy to use & perfect size for little hands
✅  Dino shapes: Parasaurolophus, Tyrannosaurus, Spinosaurus, Oviraptor, Pterosaur, Ankylosaurus
✅ Animal shapes: bear 🐻, crab 🦀 , owl 🦉 , bee 🐝 , butterfly 🦋, ladybug 🐞 , and others*
🚢 Free shipping today!
🤗 57% OFF
✨ 30-day money-back guarantee

Customer Reviews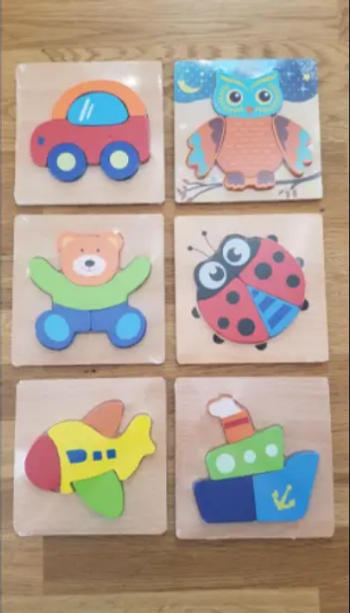 01/30/2021
Wonderful toddler puzzle
These will be perfect for my one year old granddaughter. The bright colors will intrigue her and the pieces are large enough for her to grab and maneuver in the puzzle base.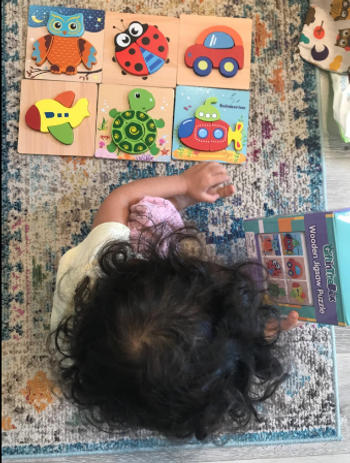 01/16/2021
Perfect jigsaw puzzle for toddlers!
I bought it for my 3yrs old daughter and d she was loving it since we got it and play plus the fact that me and husband can play with her is so interactive for us.So easy to connect and the colors are popping.And we were surprised with the quality!,its beyond our expectations.I recommend to all Mommies out there to try and let your toddlers explore.Nice tool to bond with your toddlers.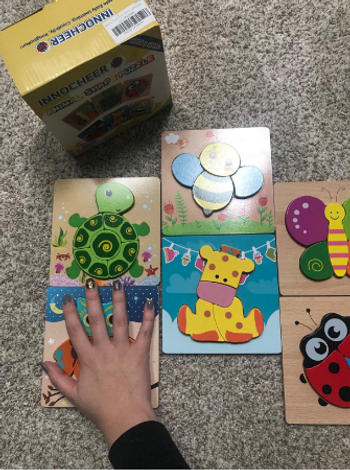 01/14/2021
Smaller than I imagined
These were smaller than I though they were going to be but seem like good quality. Came with a cute bag to hold them all.
02/06/2021
Great to buy
The product is overall good, came in good condition and good colour and picture, no missing pieces for each puzzle, puzzle pieces are wood and good finished, no chemical smell. Both my 2&3 year old boys love to play with them.
01/27/2021
Nice educational toy, the bag wont last
I like the puzzles although my twin toddlers are not very excited about it, I guess I must give them time to figure it out. The fabric bag is made of a very cheap textile and it wont last, is already falling apart. Whereas the wooden puzzle pieces are nice and sturdy, I think they will last.