Object Permanence Box
Sale price Price $39.97 Regular price $48.90 Unit price / per
Have you ever played peekaboo with an infant or toddler? Why does this game appeal so much to young children? Adults know that when someone ducks out of view, he has not disappeared forever, but for the young child, it truly is a case of "out of sight, out of mind." When something is gone from sight, it no longer exists for the child.

When something is gone from sight, it no longer exists for the child.
Swiss psychologist Jean Piaget believed that the development of object permanence, or the ability to understand that objects exist even when not seen, is one of an infant's primary developmental accomplishments.

Based on his observations Piaget determined that infants learn about their world through their senses – vision, touch, taste, sound, and movement.
The object permanence box is often found in the Montessori infant/toddler environment. It is introduced to children when they are old enough to sit up without assistance, generally around 8–12 months of age.


The direct aim of the material is to help children develop their sense of object permanence. It also indirectly helps them develop focus and concentration and gives them practice developing fine motor skills through the whole-hand grasp.



How to use the Montessori Object Permanence Box

1. Put the work mat in place and put the object permanence box on the work mat so it will be in front of the child. Encourage the child to help.

2. Sit facing the child with the work mat between you.

3. Name the box and the ball: "This is the box. This is the ball."

4. Slowly and deliberately place the ball in the hole.

5. When the ball rolls to a stop in the tray, smile and pick it up.

6. Repeat the action.

7. Invite the child to place the ball in the hole.

8. Once the child begins putting the ball in the hole, quietly move aside and allow her to work undisturbed.

9. When finished, invite the child to put the materials away on a low shelf so they may work with them again when they wish.
Safety Certified for 1-4 Years
Toys and materials are designed and manufactured to meet safety standards for babies 1-4 years old.
Montessori Materials
Precise materials are at the heart of Montessori education. Products are designed so that children can focus, gain mastery, and flourish.



Sustainably Sourced
Manufactured at an award-winning factory that uses only sustainably forested wood, non-toxic paint, and 100% recyclable packaging.
Customer Reviews
Write a Review
Ask a Question
05/28/2021
Great Montessori toy
We love this object permanence box. High quality construction and will last for kids and years to come. Comes with a natural wood ball. The ball size is perfect for tiny hands.
05/17/2021
Excellent Purchase
I initially bough the 3 in 1 but returned it and purchased this one. Mine came with a perfect sized wooden ball, excellent craftsmanship, sturdy. My 11 month old is enjoying it so far.
05/06/2021
Sturdy but Loud
Toy arrived as described. It works as described but it's very loud. The sound of the wood ball dropping onto the wood box over and over is obnoxious. Would be better if there was something to cushion inside that muffles the sound. We had to take it out of the play area because the sound was problematic.
04/14/2021
Beautifully made! Love this toy!
This is a beautifully made toy! I fell in love the second I opened the box. It's so well made and it's bigger than expected. My toddler loves this toy. I am definitely buying more from this seller. So worth it!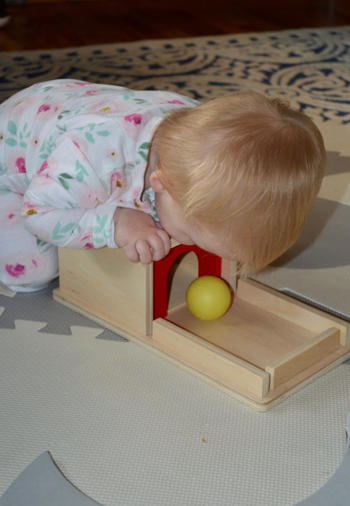 04/09/2021
Our Baby's FAVORITE Toy from 6-10 months
We are trying to follow montessori principles at home with our daughter, so we first purchased this box to help teach her object permanence. While simple, this has been her absolute favorite toy since she was 6 months old. At first she loved watching us model it, then loved trying to do it herself, and now loves seeing if larger and smaller objects will fit in. This box keeps her entertained for very long periods of time and also helps give her exercise as she loves crawling after the balls when they don't quite make it in the hole. She has also been very curious about how the box works and looks at the box from all angles to explore. Also, the quality if very good on this. We also purchased the "next" level, which is the cylinder shape with a door and hole and she has not taken to that one (yet).