Montessori Wooden Stacking Blocks (16 PIECES!)
Sale price Price $39.97 Regular price $99.93 Unit price / per
Tax included. 30 day money back guarantee.
----------------------------------------------------------------------
OVER 1,000,000 ITEMS SOLD
----------------------------------------------------------------------
🤭Did you know 85% of the child's brain is formed by the age of 3?
Get your toddler a head start in life and try this Montessori Wooden Stacking Balancing Blocks! For kids ages 2 to 5.
The Montessori stacking blocks help toddlers increase curiosity and imagination, introduces them to problem-solving, help with motor development, concentration, color & shape recognition, counting & sorting. They basically help your toddler build key skills and strengths!
Why buy "Montessori"?
✅Give your toddler a head start
✅Equip your child with learning skills
✅Reach their developmental milestones sooner
✅Develop patience, attention, critical thinking, coordination
✅For kids ages 2-5
✅Made from REAL, solid wood
✅Vibrant colors
✅Polished & safe for kids, easy to use, & perfect size for little hands
🚢
Free shipping today!
🤗50% OFF
🦺30-day money-back guarantee

Safety Certified for 1-4 Years
Toys and materials are designed and manufactured to meet safety standards for babies 1-4 years old.
Montessori Materials
Precise materials are at the heart of Montessori education. Products are designed so that children can focus, gain mastery, and flourish.
Sustainably Sourced
Manufactured at an award-winning factory that uses only sustainably-forested wood, non-toxic paint, and 100% recyclable packaging.
Customer Reviews
Write a Review
Ask a Question
03/03/2021
Small
Some of the pieces were a little smaller than expected.
03/01/2021
Cute and fun
Very cute toy for my 3 year old! They are a little on the smaller side, but that was there in the description had I bother to read it. I appreciate the cute colors and this will certainly be a well love toy.
02/21/2021
a favorite of all ages
Each member of our family enjoys these stacking stones, from young to old. It is fun to see the many ways that they can stack together and we often compete to see who can come up with the tallest and most intricate stack.
02/15/2021
Everyone likes stacking these
I bought these for my family room table as a "fidget" type thing to have around. So far everyone in our house likes stacking these - up through to my teenagers and the adults! I even ordered a second set when they were on lightening deal to have more of them. They are nicely painted and are sturdy.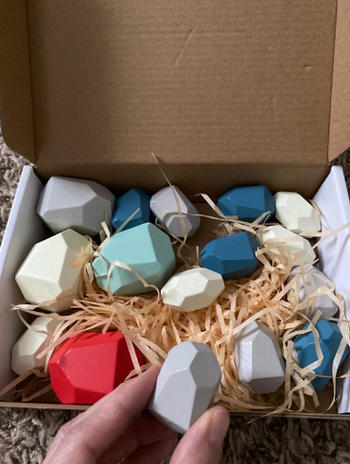 02/12/2021
Beautiful blocks for kids or adults!
These are very beautiful for toys! I purchased them as a gift for my three year-old nephew and I think he will enjoy stacking, balancing and counting them. They look to be made well, and they feel smooth and comfortable in your hand. I would actually consider purchasing these for myself-I think adults would enjoy the soothing act of creating balancing "sculptures" and they would look lovely on a desk or bookshelf.