Montessori Wooden Math Geoboard
Sale price Price $39.49 Regular price $98.73 Unit price / per
🤭Did you know kids learn math as soon as they start exploring the world?
Get your child a head start in life with this Montessori Wooden Math Geoboard. 
The Montessori Math Geoboard gets your child to practice early math skills, teaches geometric shapes & patterns, helps develop intellectual growth, literacy and analytical mind. If you're homeschooling your kid, this is a great item!
Why buy "Montessori"?
✅Give your child a head start
✅Equip your child with learning skills
✅Reach their developmental milestones sooner
✅Develop patience, attention, critical thinking, coordination 
✅Wooden geoboard, made from REAL, solid wood
✅30 cards with different shapes, rubber bands & storage bag
✅For kids ages 4-8
✅Great for learning counting, math skills, shapes, improve motor skills
✅Educational, easy to use & kids safe 
🚢Free shipping today!
🤗50% OFF
🦺30-day money-back guarantee

Safety Certified for 4-8 Years
Toys and materials are designed and manufactured to meet safety standards for kids 4-8 years old.
Montessori Materials
Precise materials are at the heart of Montessori education. Products are designed so that children can focus, gain mastery, and flourish.
Sustainably Sourced
Manufactured at an award-winning factory that uses only sustainably-forested wood, non-toxic paint, and 100% recyclable packaging.
Customer Reviews
Write a Review
Ask a Question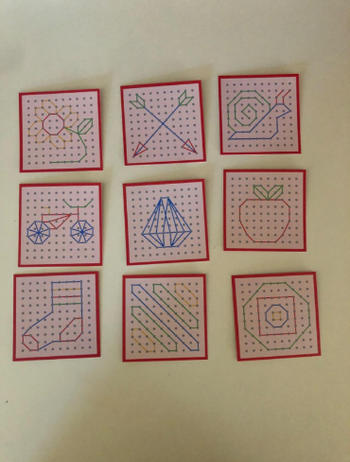 02/28/2021
Perfect for homeschooling
This is a great option for homeschooling kids—it has cards that vary in difficulty and each has a backside that's been left blank so the child can make their own pattern. That's my 8 year old's favorite part since she is better able to focus if she's leading the way. I like that it kept her attention. First, she started wherever she wanted, but she quickly realized that the cards matched the board exactly. She then counted the "up and over's" to correctly place each rubber band. The uses for a board like this are truly endless! The wooden block itself is sturdy and well-made with nails that are smooth. This was a concern because I was worried that a homemade one would catch fabrics or even finger nails.
02/27/2021
Great quality and attention to detail!
This board took me by surprise. It comes well packaged in a reusable box, beautiful cloth bag with drawstring top and darling notecards to use if this is given as a gift. I bought one for each of my kids and then one for their friend's birthday party. The kit comes with three sizes of good quality colorful rubber bands. The board itself is a good size and well made, smooth and sturdy. The design idea cards show the pegs which the rubber bands fit around so that you can more easily copy the design. (Other geo boards I researched on amazon showed a solid image on their design cards.) The other geo boards were slightly smaller, too. Overall, the attention to detail and the design quality won me over. It was a hit with my kids, too.
02/26/2021
Great buy.
The Geoboard is beautiful, great quality better than any I have seen. I only wish there were more rubber bands both large and small. Some of them are broken already that was the only downside, other than that it's beautiful.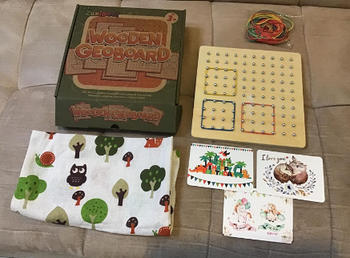 02/20/2021
PERFECT
It is a beautifully crafted product, the wood is robust and the pegs are very well secured to avoid accidents with the little ones. The finish is impeccable. It came in a recycled cardboard box in perfect condition and it also brings a nice linen bag to keep it. A really lovely detail is that they also added some gift cards with beautiful illustrations. My son loved his new toy and is exploring all its possibilities with great interest, so I think he will be entertained for many days. We are happy with our purchase.
02/16/2021
Good quality and professional packaging
I am % satisfied. The packaging was super cute and I appreciate the storage bag. I chose this geo board over others because of the smooth design and it came with the cards that showed more designs. The board is very smooth and well made. The cute storage bag is a plus and I didn't realize it before but it's needed. I would purchase it again or as a gift. Overall I was very impressed...I wasn't expecting it to be professional looking in terms of how it was packaged. The item itself is sturdy and will last us a long time (the rubber bands are good... but they're rubber bands; I'm expecting to have to buy new ones but not anytime soon).