Montessori Vehicles Puzzles (PACK OF 6!)
Sale price Price $29.98 Regular price $74.95 Unit price / per
Did you know 85% of the child's brain is formed by the age of 3?
Get your toddler a head start in life and try this Montessori puzzles bundle. Appropriate for 1-4-year-olds.
The Montessori puzzles nurture your child's visual skills, motor development, concentration, physical coordination, body awareness, and strength right from birth.a
Why buy "Montessori"?
-Give your toddler a head start
-Equip your child with learning skills
-Reach their developmental milestones sooner
-Develop patience, attention, critical thinking, coordination
-6 piece bundle
-Appropriate for 1 - 4-year-olds
-Made from REAL, solid wood
-Vibrant colors
-Easy to use & perfect size for little hands
-Shapes: elephant 🐘 , crab 🦀 , owl 🦉 , plane ✈️ , car 🚗 , unicorn 🦄  , and others*
*shapes may vary between orders
-50% OFF
-30-day money-back guarantee

Safety Certified for 1-4 Years
Toys and materials are designed and manufactured to meet safety standards for babies 1-4 years old.
Montessori Materials
Precise materials are at the heart of Montessori education. Products are designed so that children can focus, gain mastery, and flourish.
Sustainably Sourced
Manufactured at an award-winning factory that uses only sustainably-forested wood, non-toxic paint, and 100% recyclable packaging.
Customer Reviews
Write a Review
Ask a Question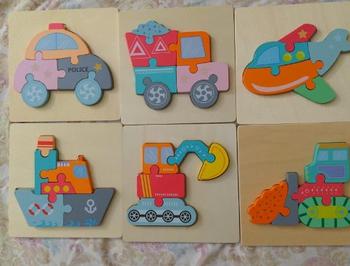 03/09/2021
good product, needs minor improvements
This is a fun puzzle for little brains to keep them occupied. I wanted a puzzle without any animals ( we have too many of them) and I liked this product instantly as it has cars and trucks. As many other reviews have mentioned, the jigsaw pieces are tightly stuck and will eventually loosen after a few uses. Also, aesthetically, I would appreciate brighter colors especially the the police car! It is pink and grey.... And kids usually relate to police car as black and white. Apart from that, the product is sturdy and of good quality.
03/04/2021
Good gift
This made a great gift. For my niece who is only two years old, he loves to play with shapes and puzzles. I like it this is simple and thick, which gives a much easier way for children to learn. He has such fun playing with it, I'm glad I got it. But, my box did arrive a little bashed up and the puzzle itself doesn't seem as sturdy, I worry about you holding up with kids. Overall it is still very great, and made a nice gift.
02/19/2021
Great learning toy for toddlers
Fantastic learning toy for toddlers and appreciate the quality as well
02/17/2021
Quality set of puzzles.
Perfect size for stocking stuffers or party favors. Quality excellent. Beautuful colors and wood finished very good. Very nice designs. Pieces thick so easy for little fingers to pick up and hold.
02/13/2021
Cute and well made
These are great for my three year old, who is ready for the next step following the single-piece type puzzles, but not ready for regular cardboard jigsaw puzzles.