Montessori Shapes Puzzles Bundle (180 PCS!)
Sale price Price $29.99 Regular price $74.98 Unit price / per
🤭Did you know 85% of the child's brain is formed by the age of 3?
Get your toddler a head start in life and try this Montessori puzzles bundle. Appropriate for 1-4-year-olds.
The Montessori puzzles nurture your child's visual skills, motor development, concentration, physical coordination, body awareness, and strength right from birth.
Why buy "Montessori"?
✅Give your toddler a head start
✅Equip your child with learning skills
✅Reach their developmental milestones sooner
✅Develop patience, attention, critical thinking, coordination
✅180 piece bundle with storage bag
✅Assemble 48 different shapes: Animals 🐘 , vehicles 🚗 , flowers 🌸 & more
✅
Appropriate for 1 - 4-year-olds
✅Made from REAL, solid wood
✅Vibrant colors
✅Easy to use & perfect size for little hands
🚢Free shipping today!
🤗50% OFF
🦺30-day money-back guarantee

Safety Certified for 1-4 Years
Toys and materials are designed and manufactured to meet safety standards for babies 1-4 years old.
Montessori Materials
Precise materials are at the heart of Montessori education. Products are designed so that children can focus, gain mastery, and flourish.
Sustainably Sourced
Manufactured at an award-winning factory that uses only sustainably-forested wood, non-toxic paint, and 100% recyclable packaging.
Customer Reviews
Write a Review
Ask a Question
02/12/2021
My kids love these
Very good product. My kids use these all the time. Only issue was the packaging tore apart pretty quickly but product is great.
01/29/2021
Kids love these
Kids love these. They are great for learning shapes and colors. You can find tons of free printable puzzle sheets for these online.
01/26/2021
Thumbs up
This was a Christmas gift for my son.....HE ENJOYS IT! He loves trying to create the different images, and I love that he gets to exercise his mind This item would make a great gift for younger children, and the little bag that comes inside makes it easy for cleanup and travel.
01/08/2021
Great fine motor and problem solving activities
My daughter love them and they help them work on problem solving.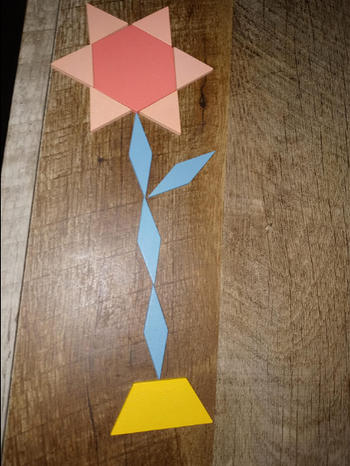 12/25/2020
My 3-year old niece LOVES these!
My 3-year-old niece loves this set! Even though she is on the young side she was able to match a simple flower design that her Mom made. Not only for making designs these are great for teaching colors, shapes and pattern recognition (red, blue, red, blue, red..... or shapes), great for counting and subtracting, sorting by color and shape. There are so many possibilities. I love open-ended learning toys like this.