Best Seller: Montessori Puzzles Bundle (PACK OF 6!)
Sale price Price $39.99 Regular price $79.98 Unit price / per
Tax included.
🤭Did you know 85% of the child's brain is formed by the age of 3?
Get your toddler a head start in life and try this Montessori puzzles bundle. Appropriate for 1-4-year-olds.
The Montessori puzzles nurture your child's visual skills, motor development, concentration, physical coordination, body awareness, and strength right from birth.
Why buy "Montessori"?
✅Give your toddler a head start
✅Equip your child with learning skills
✅Reach their developmental milestones sooner
✅Develop patience, attention, critical thinking, coordination
✅
Appropriate for 1 - 4-year-olds
✅Made from REAL, solid wood
✅Vibrant colors
✅Easy to use & perfect size for little hands
✅Shapes: elephant 🐘 , crab 🦀 , owl 🦉 , plane ✈️ , car 🚗 , unicorn 🦄  , and others*
*shapes may vary between orders

🚢Free shipping today!
🤗50% OFF
🦺30-day money-back guarantee

Safety Certified for 1-4 Years
Toys and materials are designed and manufactured to meet safety standards for babies 1-4 years old.
Montessori Materials
Precise materials are at the heart of Montessori education. Products are designed so that children can focus, gain mastery, and flourish.
Sustainably Sourced
Manufactured at an award-winning factory that uses only sustainably-forested wood, non-toxic paint, and 100% recyclable packaging.
Customer Reviews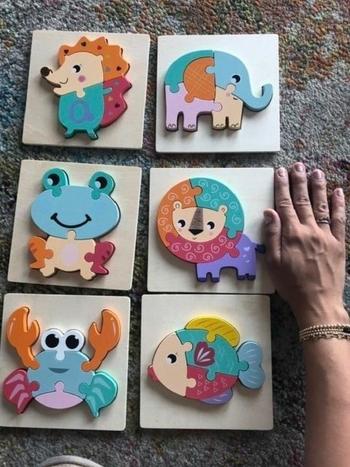 10/18/2020
Child development toy turned party favor!
Got these for my youngest but even my 6yo loves to play with them! I like that the colors are not bold (if you are looking for toys with primary colors, this is not for you). The pieces are smooth, and fit nicely. I don't mind cleaning them up (so I can put them together myself!). It comes with 6 different animals and each puzzle+board is individually packaged. Could be a great party favor! Would overall recommend for 2-4 yo. Great for fine motor skills, spatial awareness, etc for child development.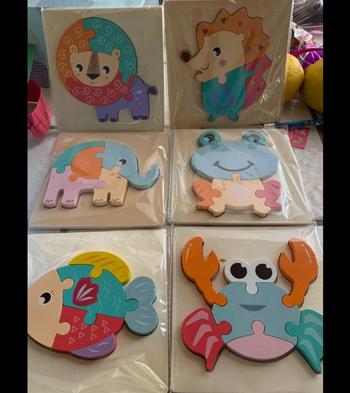 10/18/2020
Such fun and cute puzzles!
My daughter loves puzzles so much that she could work on them all day. This set of wood puzzles were smaller than I thought, but it's a great size for small hands. I appreciate the challenge level information provided on the box so that the parent can step in to help if needed. The pieces are of great quality and there's no wood splinters or shedding whatsoever.
11/21/2020
Smooth edge toys for children
Our baby likes playing with these puzzles. He doesn't understand how they work yet, but he likes taking them apart. The pieces are sturdily built and I expect it will hold up for as long as he needs them. They also can stand up which is an advantage.
11/20/2020
Help My Kid To Be Creative
I have a 20 month boy active all the day. I found this puzzle fitting his need pretty well, as it's not that complex to him while still challenging enough. Recommend it for children at roughly the same age range.
11/20/2020
Would buy again
Shipped quickly. Arrived with a cute little pull cord storage bag. Nicely packaged. Puzzles are wooden with no chemical smell. They are perfect for ages 1-4. Would be a great gift set. Very nice for the price.