Montessori Ladybug Counting Toy
Sale price Price $29.97 Regular price $74.93 Unit price / per
Tax included. 30 day money back guarantee.
The perfect way to learn Numbers and Counting for your little ones! 🔢🐞

(plus keeps them away from TV and iPhone 😂)
   "After playing with this for just a week, she's been counting things left and right❤️ !"

The perfect learning gift for any toddler! 


✔️
 Montessori method - Inspired by Montessori principles, these adorable ladybug toys help toddlers understand basic math skills, including counting and number recognition. 🤩 
✔️ Fun Learning
 - Proving that counting toys for toddlers can be loads of fun. Kids learn the numbers 0-10 and can also play counting and math games. 👶 
✔️ Designed by Parents -
This cute counting set has been created by parents to encourage hands-on learning, helping little kids build solid foundations for advanced math skills as they practice counting and play simple math games. 👪
✔️ Natural Materials -
These Montessori toys are made from child-friendly natural materials. The 11 ladybug toys are made from natural wood with child-safe paint. 🙌


📝  Product details:
-Quantity: 11 wooden bugs & 1 storage bag
-Package dimensions: 6.5 x 4.7 x 4.6 inches
-Item weight: 12 ounces
-Material: Wood
-Age appropriateness: 3+ years old
📦 Package includes:
-11 wooden bugs
-1 storage bag

Customer Reviews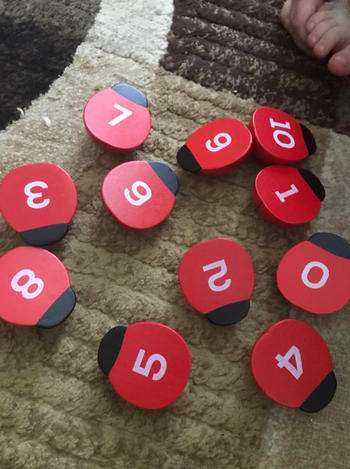 10/22/2021
Very cute lady bugs! My daughter loves them!
This is a truly win-win! I am so happy that decided to purchase these counting Lady Bugs. Very cute! My daughter is counting dots on their back and actually learning the numbers because they are written in the bottom. Also green bag serves dual purpose: storage plus it has a little pocket-hole on the top which makes it interesting for younger kids too. They like to put little things into the holes. It's big enough for child not to put it in their mouth. Also it still small enough to perfectly fit in their hands. I truly like how it feels in my hand too. Kids can play many counting games together using this kit. You can even start a little domino game with them by calling out numbers and letting them find correct bug and show it to you. My daughter is super excited. It happened that her favorite colors are black and red, so this is additional bonus! Truly happy with this kit. Perfect gift for my 4-years old daughter. I am pretty sure that if I bought it earlier, she would of still enjoy it.
11/05/2021
Project Montessori
Thank you for the amazing feedback :D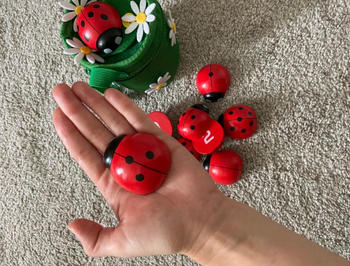 10/14/2021
Natural wood toy.
My kid loves playing with this toy. Favorite game so far is finding the missing ladybug. The toy is very bright and nice to touch. Zipper, velcro, buckle, button - everything works well, although buttoning is quite challenging.
10/05/2021
A hit for a supervised two year old
What a cute toy!! My niece loved carrying around the little purse finding where her mom hid the ladybugs around the house. My sister is a teacher and was pleased with the quality and teaching options with the toy (numbers on the bugs, removable flowers, etc.). I would get this toy again for any sweet little girl that enjoys a portable toy!
09/30/2021
Love! Love!
Love! Love! My one year old has a lot of fun looking for the lady bugs and putting them in the bag. Perfect addition to our ladybug learning.
09/23/2021
Great gift for two year old
Very cute, bought this for my friend's daughter who was turning two. She loves to dump things out and put them back in one by one. Her mother said "of course you would get her her favorite gift" so it was well liked by the two year old. The ladybugs were Good quality, no flaws in the painting and the felt carrying case is cute. The only thing I would change is the button that closes the lid, it was difficult for me to open and close nevermind a two year old.