Montessori Magnetic Letters Kit (234 letters)
Sale price Price $39.55 Regular price $58.90 Unit price / per

The perfect way to introduce the Alphabet to your little ones! 🎶  

(and create hours of FUN and EVERLASTING memories together 🤩)

   "My 5 yr old finally knows how to spell her name 🤩" 
Why is this super fun toy a must-have?
♥ Teaches your kids all the letters and encourages writing: your child will first spell the words and then practice writing the words they've spelled.

★ Quality Materials

✿ Perfect Gift: Beautifully packaged in a box, great as a gift.
✔️ Child-Parent Bonding.
 Spend time bonding with your little one learning together. 
☀︎ Safe toys for Kids: soft materials, safe to use by kids.
📝  Product details:
-Quantity: 234 letters
-Material: Foam
-Age appropriateness: 3+ years old
📦 Package includes:
-182 × Lowercase letters
-52 × Uppercase letters
-1 × Double-side magnet board
-3 × Whiteboard marker
-1 × Eraser
Customer Reviews
Write a Review
Ask a Question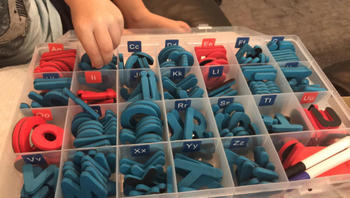 11/17/2021
Great for preschool PK student to 3rd grade
I am so happy with this order. I browsed a few similar items but went with this one. My 4 1/2 son loves it. He uses it to spell his friends, his, and words. The whiteboard is durable and it is nice that's the letters are magnetic. Going to purchase another one of these for my niece!
11/30/2022
Easy for use
Grandson with autism we use on regular basis
03/15/2022
Project Montessori
Thank you for letting us know. We appreciate it!
02/28/2022
Me encanta!
Súper completo, hermoso y útil para ayudar a los niños con el spelling! Súper recomendado
01/31/2022
Love these as a writing alternatives
My son has fine-motor challenges so I bought these magnets to help him study spelling words. Instead of always having to write the words, he can grab the letters and spell them on his magnetic white board. It keeps him from getting distracted with trying to form the letters and makes "spelling practice" a little more fun (he loves magnets). I love the case they're in, although they do sometimes slide from one cell to another and get mixed up. The vowels are red and consonants are blue so it's easy to see if he's forgotten to put a vowel in his word. I wish there were a few more of certain random letters, mainly because his words are usually themed, so he might have 10 words that all end in "ch" and we run out before he's spelled all 10 words. It also comes with a small magnetic white board, markers, and an eraser, so it's a one-stop-shop. I'm glad I bought them.
01/14/2022
Red and Blue Magnetic Letters
Great for teaching cvc words!