Kids' Christmas Tree
Sale price Price $34.97 Regular price $87.43 Unit price / per
Tax included. 30 day money back guarantee.
The perfect way to introduce the Holiday spirit to your little ones! 

(plus keeps them away from your real tree)


   "My 3 year old absolutely loves this Christmas tree! The joy on her face when she saw this was priceless!"

Only 10 weeks till Christmas! Want to include your toddlers in your pre-Christmas activities? Buy them a tree of their own and watch their eyes light up with joy!



Creative Fun - Watch as your child fine-tunes their motor skills & colour recognition ability and imagination decorating their own tree, which comes with 26 ornaments for endless possibilities.
Perfect Distraction - Our brilliant toddler-friendly tree will distract your little ones while you decorate the big Christmas while not feeling left out. Watch them smile with joy giving them a sense of ownership.
Child-Parent Bonding - Spend time bonding with your little one decorating the tree together. It makes the perfect "early" Christmas gift for them to enjoy.
Premium Quality -

Unlike others, this tree is made from premium thick felt material with Velcro ornaments. It's durable, doesn't take up much space, is easy to store away, and can be used again every year.
Product details:
-Quantity: 26 various ornaments
-Size: 37.5*27.5 inch
-Material: Felt
-Age appropriateness: 3+ years old
Package includes:
-1x Christmas Tree
-26x Ornaments
Customer Reviews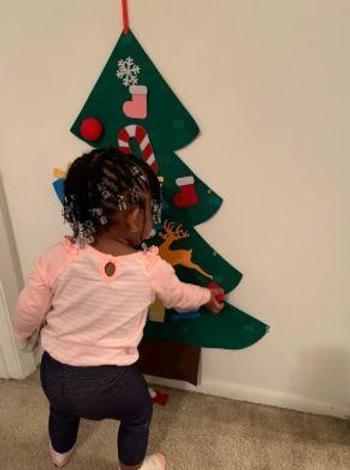 09/22/2021
My little one loves it!
My little one loves it! It is a great deterrent for keeping him away from the real tree. I am still looking for the best way to hang it up as command strips don't hold forever. They recommend double sided tape but I was worried about the paint on the walls so I haven't tried that option. The little ornaments are so cute!!
09/18/2021
Really nice
I really like this tree. My grandson loves it, and it's a perfect thing to occupy his time when it's difficult to leave the house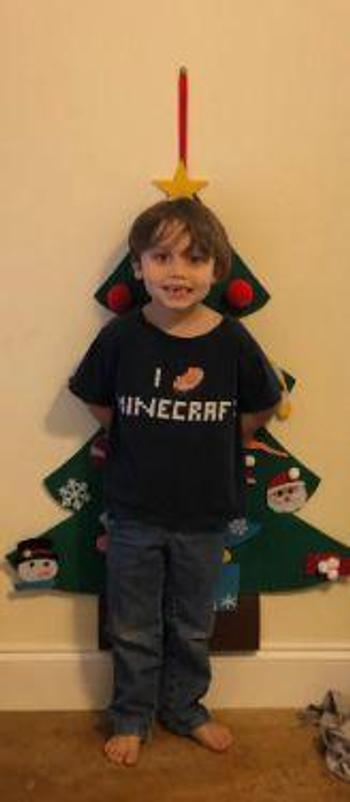 09/04/2021
Nice thickness
Perfect and durable! A quick iron where folded and it lays flat! Nice thickness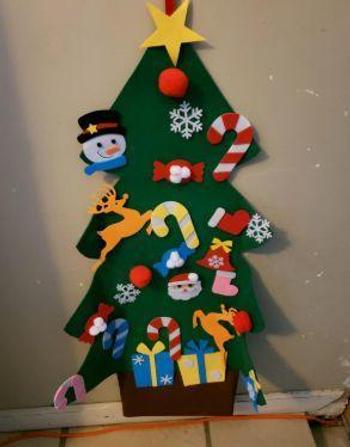 09/04/2021
Good Quality, Low Cost!
Could not have put together a home-made one myself for this cheap. its hopefully going to keep her out of the real xmas tree this year! lol
09/16/2021
Good Quality, Simple Fun For Littles
Good quality felt. Thickness is good but it comes bent so there's two creases. Not prohibitive to putting it on the wall and kids enjoying this but annoying. Perfect size for 2 year old. Hoping it will keep her busy hands off the real tree!