Best Seller: Fish, Numbers and Alphabet Wooden Board
Sale price Price $49.96 Regular price $78.90 Unit price / per
🤭Puzzles are an excellent way to help the brain work better later in life, but what are the advantages for young children?
This toy will teach your children not only how to solve puzzles, but also how to sort. Classifying and sorting activities help children to develop a range of thinking skills and build the foundations for later problem-solving. It can also be good for developing fine motor skills.
Build a strong foundation at your child's early stages and discover countless ways to play and learn with Wooden Number, Color, and Shape puzzles!
Why buy "Montessori"?

✅Give your toddler a head start.
✅Equip your child with learning skills.
✅NO Sharp Points, and won't hurt your kids.
✅Giving your toddler a toy that is safe and stimulating.
✅Contrasting colors are fascinating to toddlers and stimulate their developing vision.
✅Sturdy wooden pegs help children grasp each wooden puzzle piece on their own.
✅All-age learning tools
✅Portable and easy to carry even for crawlers, scooters, and emerging walkers.
✅Safe & Durable Toys for Toddlers
✅Appropriate for 3+-year-olds
✅Made from real solid wood 100% Non-toxic and BPA-free materials
✅Give kids another engaging option for screen-free fun.
✅Easy to use & perfect size for little hands
✅Stimulates children's development
Why kids love it?                                
✅Develop color recognition, hand-eye coordination, and encouraging creativity & imagination.
✅They are cute, easy to hold, and made in lots of fun colors.

✅A child will be able to identify some colors and sort.


✅Overcoming the challenges involved in solving a puzzle really gives them a sense of achievement and pride within themselves.
🚢Free shipping today!
🤗50% OFF
🦺30-day money-back guarantee

Safety Certified for 1-4 Years
Toys and materials are designed and manufactured to meet safety standards for babies 1-4 years old.
Montessori Materials
Precise materials are at the heart of Montessori education. Products are designed so that children can focus, gain mastery, and flourish.
Sustainably Sourced


Manufactured at an award-winning factory that uses only sustainably forested wood, non-toxic paint, and 100% recyclable packaging.
Customer Reviews
Write a Review
Ask a Question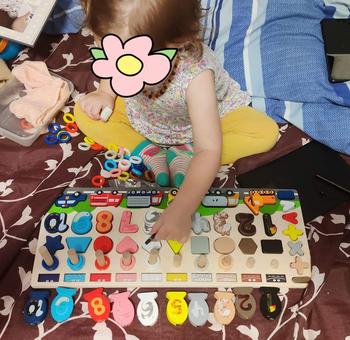 05/17/2021
Quite engaging
This puzzle toy is very educational. Numbers, colours, shapes, vehicles, mathematical symbols... It also engages motor skills by having to place rings on a stick according to the number and colour. And it also has these colourful fish they can catch with a magnetic rod. Overall a lot to see and play with. It takes a while to get it all done so it's like a full playtime session with our little one. She's almost 21 months old, so she's able to do most of it on her own, but still needs some help and guidance with stacking on the rings. The sticks are a bit unstable so I guess in the long run that may also help their sense of balance and precision. Pleased with the product.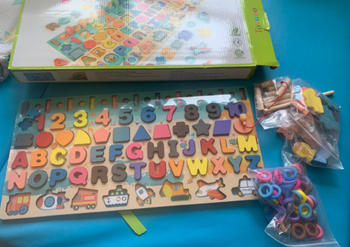 05/16/2021
Its Great
I brought my daughter this item for birthday and I was looking forward to see her open the puzzle set and she loves it my daughter has autism and she always plays with the puzzle everyday its very colourful defiantly worth every penny comes with numbers 1-10 and different vehicles to put in the correct place and it has the words on the board comes with colour fish to put in the correct places this puzzle is one of my daughters top gifts she loves it and different shapes for you're child to learn also.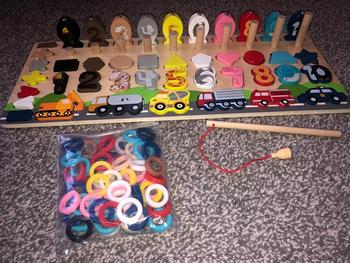 05/13/2021
Great little toy with a lot features
It arrived very quickly and well packed. The little storage bag comes very handy for all these little pieces. It's one board with shapes, numbers, animals, cars and fishing games. My 5 years old liked to out the hoops on the stick while my 1 year old was busy fishing. It kept both of them occupied for a long time. All the pieces are well made with smooth surfac3, safe for little fingers.
05/12/2021
Fun and educational
Fun and educational toy. As soon as I took this out of the packaging my son with intrigued and interested. The colours are nice and bright and the numbers on the wooden pieces are clear. I like how they have made the animal the shape of the number. We also enjoyed going fishing! Good fun and great value for money
05/10/2021
Great for my toddler
Great price for 6 great puzzles. I like to incorporate toys made from natural materials. Knobs make it easier for toddlers. My almost 2 year old loves the puzzles. They turned out to be the most educational item we own. Our kid learned and spoke more words during the first 2 weeks playing with these puzzles than during his 1st year alive. He knows most of the animals, vehicles, and shapes.