BIG Montessori Vehicles Puzzles (PACK OF 3 !)
Sale price Price $39.98 Regular price Unit price / per
🤭Did you know 85% of the child's brain is formed by the age of 3?
Get your toddler a head start in life and try this Montessori puzzles bundle. Appropriate for 1-4-year-olds.
The Montessori puzzles nurture your child's visual skills, motor development, concentration, physical coordination, body awareness, and strength right from birth.
Why buy "Montessori"?
✅Give your toddler a head start
✅Equip your child with learning skills
✅Reach their developmental milestones sooner
✅Develop patience, attention, critical thinking, coordination
✅
Appropriate for 1 - 4-year-olds
✅Made from REAL, solid wood
✅Vibrant colors
✅Easy to use & perfect size for little hands
✅Shapes: car 🚗 , rocket 🚀 , plane ✈️  🐘 , and others*
*shapes may vary between orders

🚢Free shipping today!
🤗50% OFF
🦺30-day money-back guarantee

Safety Certified for 1-4 Years
Toys and materials are designed and manufactured to meet safety standards for babies 1-4 years old.
Montessori Materials
Precise materials are at the heart of Montessori education. Products are designed so that children can focus, gain mastery, and flourish.
Sustainably Sourced


Manufactured at an award-winning factory that uses only sustainably-forested wood, non-toxic paint, and 100% recyclable packaging.
Customer Reviews
Write a Review
Ask a Question
03/03/2021
Interesting puzzles even for young kids
Got these for my 20 month old, who is a little young, but he got too good at our easier puzzle. Fun shapes and colors. These were some of the best looking toddler puzzles I could find on Amazon. Too hard for him at first, but we've had them for about a month and he can start putting some of the pieces together. The knob and hole connections are the hardest part for him. These connections do allow you to assembly the puzzle outside the base, and then you can pull them along the carpet, as a complete puzzle, which he likes to do. One of the knobs split and the material is not solid wood, it's some kind of MDF, like compressed cardboard. Parts still feel pretty good and sturdy. Some ideas for the next version: Would be nice if the base had an outline of the puzzle pieces to help him (easy enough to draw in). An idea for the bus, if the middle knob and hole were swapped, the bus could be arranged into a 3 wheel or a short 2 wheel version. Would've liked the small tail wing on the airplane to be a different color from the body. Overall, glad we got them and I'd recommend it for any toddler that likes puzzles.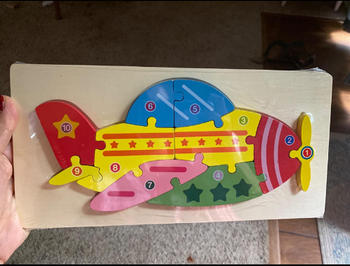 02/26/2021
very cute wood puzzle
I'm very into Montessori style toys for my child and this one caught my eye right away. The color is very clean and gentle, quality is good. The complexity level is a little bit difficult for my 20 month old son, but I will take it out for him to play later.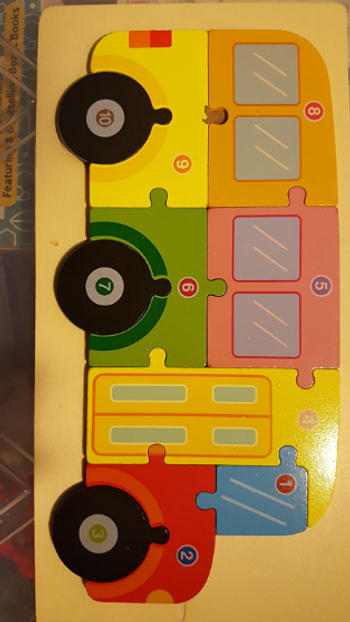 02/25/2021
Wonderfully Fun and Beautiful!
These puzzles are absolutely beautiful and fun. The pieces are thick and brightly colored. The only reason why I didn't give it 5 stars was because you sort of have to slide the pieces upwards to detach them and my three year old tore one of the pieces to the bus, trying to detach it by pulling them apart. He still plays with it but now the bus looks like a piece of it is missing. Other than that I absolutely love them and would definately recommend them.
02/18/2021
One of the kind wooden puzzle
Very nice wooden puzzle in one of the kind design. The numbers help smaller toddler to count and place the puzzle. The color is bright and vivid. The base board is a little thin but it should be ok and the puzzle can be placed on the ground to complete without the base board. Love the design behind the puzzle.
02/17/2021
Fun to play
Bought it for my 17 months girl who loves puzzles. It's a bit advanced for her and she sometimes gets frustrated but still likes to keep trying. The color is bright, wood is fine quality, and nice set for gift ideas. I have put it away for now because my girl can only play 2-3 pieces now but would recommend this for advanced players!