Wooden ABCs & 123s Puzzles (4 PACK)
Sale price Price $34.97 Regular price $87.43 Unit price / per
Tax included. 30 day money back guarantee.
🤭Did you know 85% of the child's brain is formed by the age of 3?
Get your toddler a head start in life and try this Montessori puzzles bundle. Appropriate for 1-4-year-olds.
The Montessori puzzles nurture your child's visual skills, motor development, concentration, physical coordination, body awareness, and strength right from birth.
 Why buy "Montessori"?
✅Give your toddler a head start
✅Equip your child with learning skills
✅Reach their developmental milestones sooner
✅Develop patience, attention, critical thinking, coordination
✅
Appropriate for 1 - 4-year-olds
✅Made from REAL, solid wood
✅Vibrant colors
✅Easy to use & perfect size for little hands
✅Shapes: animals, vehicles, numbers and ABCs
🚢Free shipping today!
🤗50% OFF
🦺30-day money-back guarantee

Safety Certified for 1-4 Years
Toys and materials are designed and manufactured to meet safety standards for babies 1-4 years old.
Montessori Materials
Precise materials are at the heart of Montessori education. Products are designed so that children can focus, gain mastery, and flourish.
Sustainably Sourced
Manufactured at an award-winning factory that uses only sustainably forested wood, non-toxic paint, and 100% recyclable packaging.
Customer Reviews
Write a Review
Ask a Question
05/17/2021
A lot of puzzles idea
This peg wood puzzles are really good for toddlers and little kids this helps their brain functions good. Helps them look for different sizes and shapes. Sturdy product made with love bigger toys it is very safe for title babies. Lightweight products can be easily move and transfer from one place to another. Giftable and yes for toddlers this gives so much joy.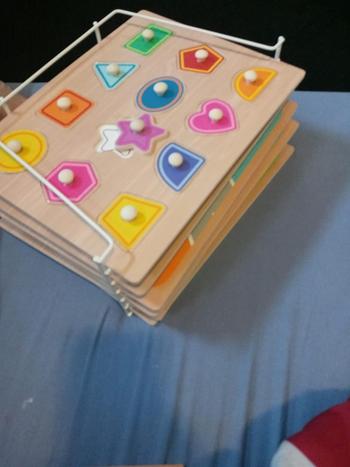 05/16/2021
Wonderful gift for a toddler
Bought this for my nephew. The pieces were just the right size for toddler fingers to be able to pick up. The colors were bright and I was very impressed with the quality. It was nice to get away from all the electronic toys and get something that was educational. I would buy this again without hesitation.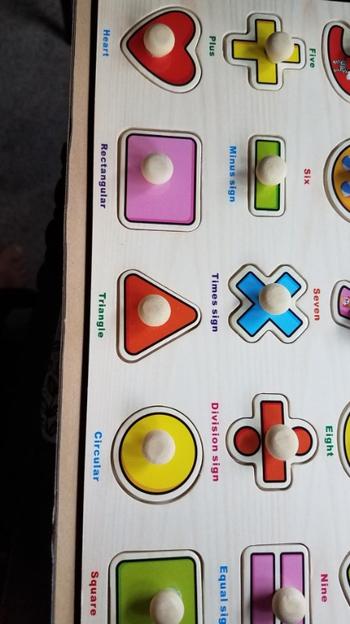 05/13/2021
Fun and educational!
This set of puzzles will keep toddlers happy and engaged while they match up the pieces on each of the four boards. The knobs are sturdy and just the right size for little hands. I like that the spaces on the board have pictures to match each piece. I also like that the pictures are labeled. Fun and educational play is so important. The bright and bold pictures make these puzzles very appealing, too.
05/12/2021
GREAT WAY FOR LITTLE ONES TO LEARN SHAPES
This is perfect for my young grandson to start learning his number, alphabet and animals. These pegged pieces are very nice with no rough or sharp edges. They are wooden and very nice quality.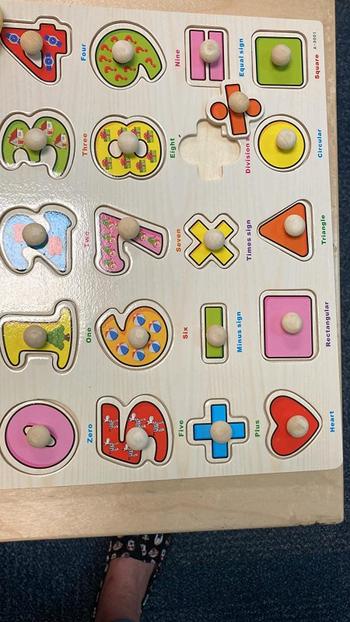 05/10/2021
Education and fun at same time.
These are quality puzzle set. Made of good quality wood. They are very easy to handle. Every puzzle piece has a holding button on top so the kids can easily remove and place them wherever they want. There are a lot of education details in this puzzle set. Alphabets, number, animal, shapes etc. They even provide a day stand in which we can place all the puzzles together when not in use. Easy to store and maintain. It's quite a lot of fun as well as education.