Best Seller: Dentist Set
Sale price Price $42.91 Regular price $105.03 Unit price / per
Tax included. 30 day money back guarantee.
🤭Parents can boost their children's development and understanding of their surroundings by buying educational toys for them.
Educational toys enhance the development of children by growing their IQ, fulfilling their interests, assisting them in learning about the world around them and providing a lot of fun. Making education enjoyable will help your child retain the things she learns and develop a positive attitude toward learning.
Spark your child's interest in health and medicine with pretend play tools such as the Doctor Kit Set!
Why buy "Montessori"?

✅Give your toddler a head start.
✅Equip your child with learning skills.
✅NO Sharp Points, and won't hurt your kids.
✅Develop patience, attention, critical thinking, and coordination.    
✅Promote toddler's brain development and improve memory.
✅Will help alleviate the stress associated with a doctor's visit.
✅All-age learning tools
✅Fun Learning & Great visual stimulation
✅Safe & Durable Toys for Toddlers
✅Appropriate for 3+ year-olds
✅Made from real solid wood 100% Non-toxic and  BPA-free materials
✅Let your child explore and work out their ideas and thoughts.
✅Easy to use & perfect size for little hands 
 Why kids love it?
✅Doctor pretend play helps your kids to know more about doctors' work and develop creative expression, social skills, and independence.
✅Help kids to be a little doctor anywhere.

✅Vibrant colors enhance the sense of sight in small kids.

✅Perfect size- Premium quality and makes these perfect for gifting.
🚢Free shipping today!
🤗50% OFF
🦺30-day money-back guarantee

Safety Certified for 1-4 Years
Toys and materials are designed and manufactured to meet safety standards for babies 1-4 years old.
Montessori Materials
Precise materials are at the heart of Montessori education. Products are designed so that children can focus, gain mastery, and flourish.
Sustainably Sourced
Manufactured at an award-winning factory that uses only sustainably forested wood, non-toxic paint, and 100% recyclable packaging.
Customer Reviews
Write a Review
Ask a Question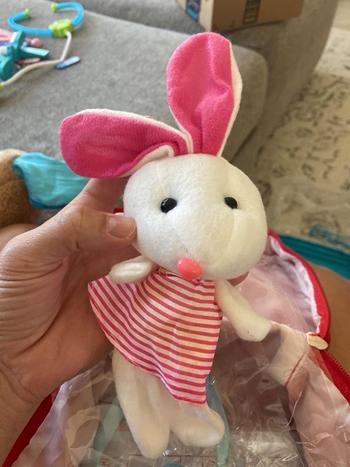 05/17/2021
Good value and quality with wood pieces
Durable set and good value when compared to other kits as these pieces are wood not plastic. Just enough medical 'instruments' to keep your kiddo busy without all the extras. The reusable roll of little bandage tape is nice. Not sure why a whistle is included but is a fun extra toy. Just a couple things to note: thermometer pieces are in celsius with no Fahrenheit reading, the stethoscope is capable of picking up faint heartbeat sounds when user is still and silent, and the syringe does have a little spring resistance feel to it. Good carrying case with internal mesh pocket as well as two extra plastic divider zip pockets sewn inside to store the smaller items.
05/16/2021
Do not hesitate, buy it!
Purchased this for my daughters birthday, as she loves to give the entire family a checkup she also loves to put things into a bag and take things out, so this will be absolutely perfect! I love the quality of each piece especially the bag included for storage the wood seems to be very sturdy and I appreciate that the teeth stay in the arch with little magnets. They really though this through when designing it for little ones. Another thing that made this even more special is the individual packaging. Thank you for such a wonderful product!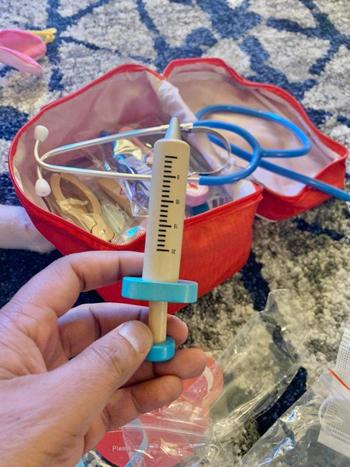 05/13/2021
Good quality and my daughter is surprised to hear the heartbeat using this toy Stethoscope.
I bought this for my daughter, she really likes it, the wood toys looks really nice, and good quality, especially the realistic Stethoscope. She is so excited to hear the real heartbeat! I will definitely recommend it to my friends.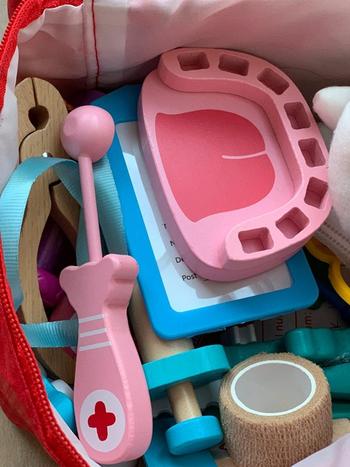 05/12/2021
She liked it!
My daughter asked for a doctors set for Birthday. This set did not disappoint us, she could not put the stethoscope down. Even her sister enjoyed playing together. What a great toy! The dress of the bunny had little sewing issue but that's minor. Overall really well made.
05/10/2021
Amazing product for a toddler 5 star quality *****
Very unique medical and dental kit , contains all the details up to pills and everything thing a doctor would carry along with the dental kit. I would give this product a 5 start for its quality and realistic look and feel. It's a must buy for the kids. This is a great gift option too. Will recommend others to buy it too.