Best Seller: Baby Soft Books 8 PACK
Sale price Price $34.97 Regular price $82.43 Unit price / per
⭐️ 
⭐️
⭐️
⭐️
⭐️
 "My toddler LOVES this book!"

⭐️

 

⭐️

 

⭐️

 

⭐️

 

⭐️
Kids are
 

obsessed

 

with these bath books. They instantly become the favorite go-to toy for kids 1-3 years old, especially for bath time.
These books nurture your child's visual skills, motor development, concentration, and attract their attention.
Why it's good for kids?
-Ultimate fun
-Good for brain development
-Bond with grandparents
-Nurtures child's visual skills, motor development, concentration, physical coordination
-Develops patience, attention, and focus
-Keeps kids occupied
-NON-TOXIC


Why it's good for grandparents?
-Safe playtime
-Less supervision
-Great for bonding with grandchildren
-Witness your grandchild's milestones

-Shipped from the US
What does your grandchild get?
-8 thematic books:
Fruit 🍎
Ocean 🌊
Digital 📺
Animal 🐘
Graphics 👾
Transportation 🚌
English alphabet 🔤
Musical Instrument 🎻

Endless happy hours!
What do you get?
-30-day "no questions asked" money-back guarantee
-Free shipping in the US
-Top-notch customer support

-Huge discount
Customer Reviews
Write a Review
Ask a Question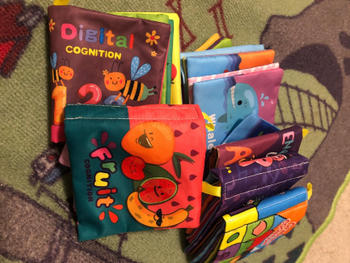 03/17/2021
Great First Books ;)
I got this for my 18 month olds for theirs bath time and they love it. The colors are very vibrant and there are multiple types of books like shapes, animals, sea animals etc. the quality of books are awesome and it doesn't look cheaply made. I think this can be great starter book kit for present!!
03/16/2021
great for touching
These books are so cute and have different categories for baby to look. Soft and has plastic in each page. So when baby hold this will have some noise to make my baby pay attention. Which is great. I try once during bath time. Doesn't work for my 5 months baby. Because after dropping in the water the books went to heavy. I tried one bite, taste not good for me as adults. The martial similar as softy rain coat. Also my baby do not like to chew these books. But she dose like to see the picture.
03/12/2021
Awesome books for teething babies!!
I was so excited to get these books for my teething baby. I had previously paid over 10 dollars for a similar book and these books are just as good ( and there's 8!!!) They didn't have a weird smell like others. I washed them and they air dried in a couple of hours. My baby loves them since he is teething and he enjoys the sound they make. They are also good because I can read the books to him without worrying about him ripping them or me accidentally giving him a paper cut.
03/02/2021
Great
I just received the books. They are so cute . The only thing that happened to me is that I received two books on musical instruments and I am missing the alphabet book. Other than that everything is great and I would recommend these books to anyone having babies
02/23/2021
Tactile, cute, not so easy to clean
I was surprised by the size, I thought they were bigger than they actually are lol I feel some words are NOT for babies/toddlers (like the animals one...) they are not super easy to clean, but they have the tactile plastic noise, which drives interest on my baby. They kind became a "travel size" toy for when we go out. overall good.