Best Seller: 3D Dinosaur Puzzles 6 PACK
Sale price Price $39.99 Regular price $79.98 Unit price / per
Tax included.
⭐⭐⭐⭐⭐
My Grandson loves them! Perfect for starter jigsaw puzzles! Bright colors and sturdy wood pieces. The packaging was so cute and the bonus pack of dinosaur stickers was a big hit!
⭐⭐⭐⭐⭐
✅  
Appropriate for 1 - 4-year-olds
✅  Made from REAL, solid wood
✅  Vibrant colors
✅  Easy to use & perfect size for little hands
✅  Shapes: Parasaurolophus, Tyrannosaurus, Spinosaurus, Oviraptor, Pterosaur, Ankylosaurus
🚢Free shipping today!
🤗50% OFF
🦺30-day money-back guarantee
Customer Reviews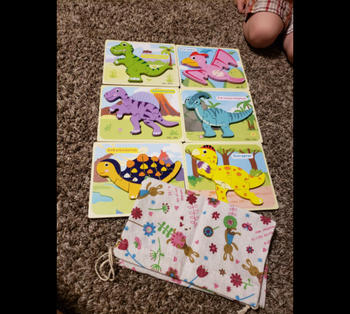 01/25/2021
Great puzzles any infant or toddler of any age
In my opinion these puzzles are worth the investment. They're built well, don't have any smells of paint/chemicals and the puzzle pieces and backing boards are sanded nice and smooth, no splinters! The puzzles can be used with or without the backing board. The pieces are large enough so they don't pose a choking hazard and the choice of colors is great too. Bright vivid colors that seem to catch my daughters eyes and arouses her interest in playing with them. Connecting the pieces is simple enough too, they easily fit together without any struggle or force. Another nice thing about this puzzle set is the puzzles come with a drawstring bag which is a nice way to keep them together. I'd highly recommend this purchase even for infants younger than 10 months old because it at least gives them something vivid and bright to look at and play with their hands and nibble on.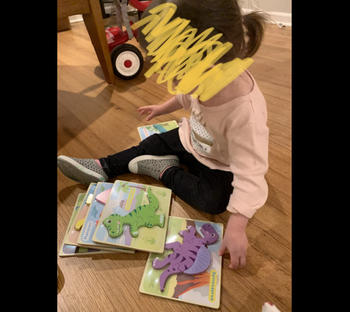 01/05/2021
Vibrant 6 piece dinosaur puzzles!? Kids- "Yes please!"
Great for all ages 3 on up to 8 I'd say. My 2 year old even loves to do these puzzles with a little help! They are very colorful and vibrant! They are extremely fun and come with a carry bag. My kids not only love puzzles, but they love dinosaurs so these are perfect! This set comes with 6 different puzzles. Each puzzle has 5-6 pieces! My kids love them!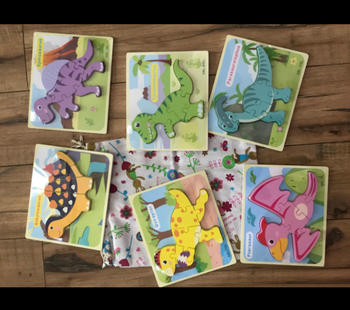 12/31/2020
Perfect gift for dinosaur loving kids!
We have been working on getting rid of electronic toys and one of the first items to buy were puzzles. We have others but they were too many pieces and difficult for my kids (1 and 5 year old). These are perfect size and the colors are amazing! Both of my kids are dinosaur lovers and started playing with them soon as I opened the box. They also came with a beautiful bag but my daughter ran off with it lol worth every penny!
01/16/2021
Great!
These Dino puzzles are great! A little tricky in the beginning for my two year old but he got the hang of it. Very cute for a birthday gift!
01/15/2021
Great Puzzles!
These puzzles are great! My son is almost 3 and he loves to play with them and put them together!